Business Credit Reporting Agency
Is your company listed with the major business credit bureaus?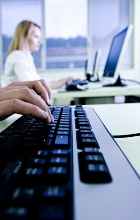 Do you know that there are over 30 business credit reporting agencies in America?
With so many companies in the business of collecting commercial information it can be quite a challenge deciding which ones are most important for your company to get listed with.
For starters you should focus on getting listed with the top three business credit reporting agencies which are Dun and Bradstreet, Corporate Experian, and Small Business Equifax.