Business Credit
Credit extended to a business is known as business credit or corporate credit. Whether starting or expanding a business, understanding your funding options and what types of business credit you can obtain is crucial to the success of your company.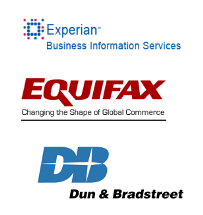 Unfortunately, many entrepreneurs and small business owners rely on their personal credit to secure the funding they need without realizing the benefits and leverage that business credit has to offer.
At its core, business credit enables a business owner to establish a creditworthy business. As consumers we have a credit identity also known as a credit report with the consumer credit agencies Equifax, Transunion, and Experian.
Data collected on one's personal credit file is used to generate a personal credit score (FICO® score). The FICO® score is the most widely used risk assessment tool by banks, lenders, insurance companies and creditors all across the country to assess the level of risk an individual presents.
When it comes to a business, a separate legal entity such as a corporation or limited liability company has the unique ability to create a credit identity also known as a business credit profile with the business credit agencies.
Business credit agencies such as Dun & Bradstreet, Corporate Experian, and Equifax Small Business supply business credit reports and risk assessment tools to lenders, banks, suppliers, investors, insurance companies and businesses worldwide to assess the level of risk a business presents.
Each business credit agency has its own unique business credit scoring models with no uniform scoring system being adopted by lenders. For example, Dun & Bradstreet is widely known for its Paydex® score while Equifax Small Business uses the Credit Risk Score™.
Once a business has an established business credit report with favorable scores and ratings then lenders, creditors, suppliers, and businesses will have the ability to assess the creditworthiness of the business. This means an owner's personal credit rating will no longer be directly tied to the success, or failure of the business.
Rather than putting one's personal credit at risk, a creditworthy business allows a business owner to leverage the company's strong credit rating to secure financing. The fact is an owner with a creditworthy business can obtain 10 to 100 time's greater financing compared to a business owner who relies solely on his personal credit ratings.
It's also in a business owner's best interest to separate their personal and business credit in order to protect the integrity of the corporate veil. This separation can only be accomplished with the use of corporate credit.
While there are many types of business credit and funding programs, the process of establishing a creditworthy business first requires a business to complete key fundamental steps and corporate compliance guidelines prior to applying for business credit.
Going through the process with a business credit building system prevents a business from experiencing unnecessary denials of credit due to mismatched data, unverifiable or outdated information, or duplicate credit files.
Once the initial process and foundation is complete, a business will then be required to get D-U-N-S registered with Dun & Bradstreet. Getting listed with other major agencies such as Equifax Small Business and Corporate Experian occurs when the business begins establishing credit with creditors that share data with these agencies.
Business credit provides an enormous opportunity for entrepreneurs and small business owners. By building a creditworthy business, you get to leverage the power of your company, build a business credit asset, and protect your personal credit at the same time.