Secured Business Credit Card
Recently I posted how credit restoration is a viable strategy for small business owners in personal credit recovery. In addition to repairing your personal credit you should also focus on building and if necessary repairing your business credit as well.  One of the best ways to start establishing business credit is through a secured business credit card.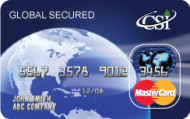 These types of credit cards are specifically designed for businesses with no credit or less than perfect credit history. When you apply you are required to submit a security deposit that will establish an initial credit line. In most cases a minimum deposit of $500-$1,000 is required and once you begin using your card you will receive invoices like a standard unsecured business credit card.
As you pay your invoices your payments will get reported to the business credit bureaus. I always encourage my members to use a secured business credit card along with vendor credit lines because it will allow you establish a strong blend of account types on your files.
Some of the secured business credit cards we have listed report solely to one bureau like Corporate Experian while others report to two or all three of the major business credit bureaus. Keep in mind that your deposit is only used to pay off the debt in the event that you default on making payments.
As soon as you receive your card you can start using it to make purchases for your business. When you charge a purchase just simply pay the invoice when it comes due. Now remember the whole purpose of using the card is to build credit so don't be late on your payments. After six months you can request that your account be reviewed for a credit limit increase without requiring a larger security deposit.
Some other benefits of a secured business credit card include:
Universal Acceptance
Cash Back Programs
Online Expense Management
Easy Funding Options
Before you apply you will need to have your company's business license, articles of incorporation, address verification, federal tax ID#, banking reference and general business information. You will also need to list authorized users and how many cards you are requesting.
You can send your security deposit via wire transfer and typical turnaround times take 7-10 business days. Keep in mind that before you select any secured business credit card make sure you read the terms and conditions completely and verify which business credit bureau they report to.
Another advantage to using secured business credit cards is the separation between your personal credit and business credit. In my opinion these types of business credit cards are ideal for every small business owner because it not only establishes business credit but also controls spending, eliminates personal liability and protects your personal credit files.
Looking for the best secured business credit cards?  Become a member of my Business Credit Insiders Circle and gain access to a proven step-by-step business credit building system. A system that provides you access to secured business credit cards, vendor lines of credit, fleet cards, business credit cards with and without a personal guarantee, funding sources and lenders that report to all the major business credit bureaus. Submit your name and email below for details and receive a free audio seminar ($597 value) =>
Marco Carbajo is a business credit specialist, author, speaker, and founder of the Business Credit Insider's Circle.  He is a business credit blogger for AllBusiness.com, a subsidiary of Dun and Bradstreet and author  author of "Eight Steps to Ultimate Business Credit" and "How to Build Business Credit with No Personal Guarantee." His articles and blogs have also been featured in American Express Small Business, Business Week, The Washington Post, The San Francisco Tribune, Scotsman Guide, Alltop, Entrepreneur Connect, and Active Rain.