Business Credit Reporting Agency
Is your company listed with the major business credit bureaus?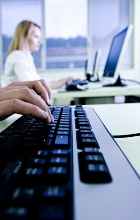 Do you know that there are over 30 business credit reporting agencies in America?
With so many companies in the business of collecting commercial information it can be quite a challenge deciding which ones are most important for your company to get listed with.
For starters you should focus on getting listed with the top three business credit reporting agencies which are Dun and Bradstreet, Corporate Experian, and Small Business Equifax.
It's important to realize that hundreds of thousands of companies, lenders, suppliers, and creditors rely on these particular agencies to provide them with reports which they use to assess the credit worthiness of a company.
If you apply for credit with a lender or supplier and your company is not listed then you'll most likely be denied credit or be required to furnish a personal credit check and personal guarantee.
So how do you get listed?
Business Credit Bureaus
Dun and Bradstreet
First, let's cover the leader in the industry which is Dun and Bradstreet. With over 130 million companies listed and over 1.5 million updates per day this is one bureau you should aim to establish a solid profile with.
To get listed go to the Dun and Bradstreet Credibility Corp code lookup website and first check to see if your company is already listed. If it is then you will need to register with iupdate to review your file and make any necessary changes.
If your company is not listed you have two options.
Get your D&B DUNS® Number in 5 days by purchasing a DUNS starter package.
Get your DUNS Number in 30 days by selecting the no charge option
Keep in mind that having a DUNS number is just the beginning. You will need to start building your company's credit file by doing business with creditors and/or suppliers that report to DNB.
You can also add positive trade references to your file by purchasing one of Dun and Bradstreet Credibility Corps' CreditBuilder programs.
Corporate Experian
Corporate Experian (Business Experian) is another dominant player in the industry with over 22 million companies listed. One major difference is it does not allow you to self-report trade references like DNB. The only way to get listed is by doing business with a creditor or supplier that furnishes to this specific bureau.
Small Business Equifax
Small Business Equifax is another bureau that plays a significant role in the industry with over 25 million companies listed in its database. This bureau is said to be one of the most difficult to get listed with and the majority of its furnishers are banks and leasing companies. Similar to Experian the only way to get listed is through a lender or company that supplies its payment data to Equifax.
Even though there are many other agencies that collect commercial data it would prove to be a smart decision to establish a credit profile with each of these bureaus. This would allow the majority of lenders, creditors, banks, leasing companies, and suppliers to properly assess the creditworthiness of your business instead of having to rely on you and your personal credit.
What other business credit bureaus are you listed with?
Need to get listed with all three major business credit bureaus? Become a member of my Business Credit Insiders Circle and get listed using our step-by-step business credit building system. A system that provides you access to vendor lines of credit, fleet cards, business credit cards with and without a PG, funding sources and lenders that report to all the major business credit bureaus. Submit your name and email below for details and receive a free audio seminar ($597 value) =>

To Your Success In Business and in Life!
Did This Blog Help You? If so, I would greatly appreciate if you like and shared this on Facebook and Twitter.
About the author
Marco Carbajo is a business credit expert, author, speaker, and founder of the Business Credit Insiders Circle. He is a business credit blogger for Dun and Bradstreet Credibility Corp, the SBA.gov Community, About.com and All Business.com. His articles and blog; Business Credit Blogger.com,  have been featured in 'Fox Small Business','American Express Small Business', 'Business Week', 'The Washington Post', 'The New York Times', 'The San Francisco Tribune','Alltop', and 'Entrepreneur Connect'.