Amazon Corporate Credit Line
Are you a small business owner that shops online at Amazon.com?
If you answered yes, the Amazon Corporate Credit Line may be just what your company needs.  As you know you can pretty much buy anything through Amazon so having a credit line can be a very convenient way to shop for your business.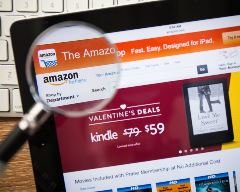 The fact is Amazon has hundreds of millions of products in all type of categories from industrial to janitorial, construction to office supplies. It is the largest Internet-based retailer in the United States. Whether it's a 3D printer or snacks for your employee break-room, you won't find it difficult to find what you need and at a decent price.
Best of all you can customize your business account to suit your needs. For example, as an administrator you can create multi-user accounts and assign permissions for each user. Whether you have one or two employees or hundreds, you can easily connect your team and set up roles, payment methods and shipping addresses.
Click to continue …