Amazon Corporate Credit Line
Are you a small business owner that shops online at Amazon.com?
If you answered yes, the Amazon Corporate Credit Line may be just what your company needs.  As you know you can pretty much buy anything through Amazon so having a credit line can be a very convenient way to shop for your business.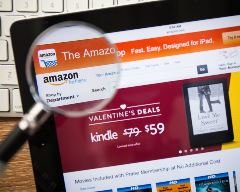 The fact is Amazon has hundreds of millions of products in all type of categories from industrial to janitorial, construction to office supplies. It is the largest Internet-based retailer in the United States. Whether it's a 3D printer or snacks for your employee break-room, you won't find it difficult to find what you need and at a decent price.
Best of all you can customize your business account to suit your needs. For example, as an administrator you can create multi-user accounts and assign permissions for each user. Whether you have one or two employees or hundreds, you can easily connect your team and set up roles, payment methods and shipping addresses.

How do you use the credit line?
Amazon's Corporate Credit Lines can be used to pay for eligible orders on Amazon.com and Amazon Business. Once you're approved, the credit line will be available as a payment option in the payment section of its checkout. You can use your purchase order numbers to improve record-keeping as well.
Note: The following items cannot be purchased using either one of Amazon's corporate credit lines:
Cell phones
Cell phone accessories
E-documents
Games and Software downloads
Digital newspaper and magazine subscriptions
Prime memberships
Subscribe & Save orders
Print at Home and E-mail Amazon.com Gift Cards
What types of credit lines are available?
The Amazon.com online credit center is operated by Synchrony Bank, the issuer of both the Pay-in-Full and revolving corporate credit lines. Let's break down both of these in greater detail:
Pay-In-Full Credit Line
With a pay-in-full credit line (E.g. Net 30 business accounts) a company's balance is required to be paid in full during each billing cycle. For example, statements processed on the 10th of the month, will carry balances due in full by the 5th of the following month. This option provides invoice-level billing and the ability to make payments at the invoice and purchase order level.
Net 55 billing terms to pay-in-full with no interest
Requires you to pay each statement in full
Ability to setup primary and secondary accounts for multiple purchases
You get a dedicated Account Manager
No annual fee
Revolving Credit Line
With a revolving credit line a company has the flexibility to make minimum monthly payments. Balances not paid in full each month will be carried forward and will accumulate finance charges.
Best for small to medium-sized businesses
Option to make minimum payments or pay-in-full monthly
12.99% Purchase APR
Option to apply as a personal guarantor to build business credit
24/7 Customer Service
No annual fee
*With a revolving credit line you may need to supply a personal guaranty if your business is less than three (3) years old or if your business is a partnership or sole proprietorship.
What does it take to get approved?
Here are some key factors that may increase your likelihood of approval:
Company should be in business for more than two years.
You're willing to Personally Guarantee the account.
You have an established business credit history and business credit rating. (E.g. Paydex® Score).
Now if you're approved, all purchases you make using your account can only be used for business purposes and not for personal, family or household use.
The Amazon Corporate Credit Line is ideal for small businesses that may need capital to purchase supplies on a regular basis. Whether you obtain a Pay-In-Full Credit Line or a Revolving Credit Line your business will be able to purchase anything on Amazon.com and Amazon Business.
To apply for a line of credit, go to Amazon Corporate Credit Line. If you don't have an established business credit history or rating, start building your business credit today.
Looking to rebuild your business credit? Become a member of my Business Credit Insiders Circle and gain access to a proven step-by-step business credit building system. A system that provides you access to vendor lines of credit, fleet cards, business credit cards with and without a PG, funding sources and lenders that report to all the major business credit bureaus. Submit your name and email below for details and receive a free business credit building audio seminar ($597 value) =>

To Your Success In Business and in Life!
Did This Blog Help You? If so, I would greatly appreciate if you like and shared this on Facebook and Twitter.
About the author
Marco Carbajo is a business credit expert, author, speaker, and founder of the Business Credit Insiders Circle. He is a business credit blogger for Dun and Bradstreet Credibility Corp, the SBA.gov Community, About.com and All Business.com. His articles and blog; Business Credit Blogger.com,  have been featured in 'Fox Small Business','American Express Small Business', 'Business Week', 'The Washington Post', 'The New York Times', 'The San Francisco Tribune','Alltop', and 'Entrepreneur Connect'.