Corporate Linkage
Did you know D&B has over 17 million DUNS Numbers linked in over 4 million corporate family trees?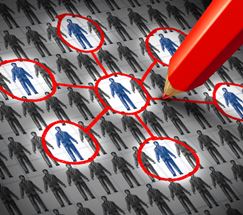 Knowing how a business is related to other businesses that you have a relationship with can be a powerful sales and prospecting tool and may often change how you approach them. It can provide the transparency and insight your business needs.
It's also helps companies (including your own) better manage risks, identify opportunities, and enhance purchasing power by identifying current businesses that come from the same corporate family.
So what is corporate linkage?

It's the relationship between different businesses within a corporate family. Linkage happens when one company has financial or legal responsibility for another company. When this happens there are two types of linkage relationships that are established in the D&B database.
Branch to Headquarter linkage
Subsidiary to Parent linkage
Now there are other types of corporate family relationships that are not linked in Dun & Bradstreet's database because the affiliated company has no legal obligation for the debts of the other company.
Examples of these types of relationships (minority linkage) include companies who have the same officers or situations where one company owns a small interest in another business (50% or less).  These relationships are in a separate database of D&B.
The first step to understanding corporate relationships is the D&B D-U-N-S Number which is assigned to every business entity in D&B's database. Each business in its database has a classification which is broken down into the following:
Business classifications in D&B's database
Stand-Alone Businesses – these are companies which have no corporate linkage relationships established.
Single Location Subsidiary – this is a company that has a single location with a parent company that owns more than 50% of its stock.
Headquarters – this is a business that has other branches or divisions that reports to it, and it is financially responsible for those locations. Keep in mind if the headquarters has more than 50% of its stock owned by another business, it will also be a subsidiary. If the headquarters owns more than 50% of stock of another company, then it's also a parent company.
Branch – this is a secondary location of its headquarters. A branch has no legal responsibility for its debts, the headquarters does.
Division – this is similar to a branch since it is a secondary location. A division also has a branch code in Dun & Bradstreet's database.
Limited Partnership – this is a partnership that has at least one business partner with a management role (General partner) and at least one passive investor. (Limited partner)
Subsidiary – this is a corporation that has more than 50% of its stock owned by another corporation and will have a different legal business name than its parent company.
Parent – A parent is a corporation that owns greater than 50% of another corporation's stock. The parent company can also be a subsidiary of another business. If the parent company has branches, then it is a headquarters as well as a parent company.
Domestic Ultimate – this is a business entity within the family tree that is the highest-ranked member within a specific country.
Global Ultimate – this is the top entity within the global family tree that has the greatest responsibility.
Now for the purpose of linking these relationships to explain corporate responsibility, each family member carries up to four D-U-N-S Numbers which are broken down into the following:
The next highest level in the family; parent or headquarter D-U-N-S
The highest level within its country; its domestic ultimate D-U-N-S
Its top global ultimate; global ultimate D-U-N-S
Why is corporate linkage important?
In a nutshell, corporate linkage allows businesses, suppliers and lenders to make better decisions using Dun & Bradstreet by being able to identify the relationships within a corporate family on D&B's business credit reports. Whether a company is a large corporate family or a small business with just a few locations it enables one to assess risk across different parts of an entire organization.
Here are five key reasons why corporate linkage is so important:
It allows you to make better-informed decisions and enhanced decision-making capabilities
You are able to assess the overall corporate exposure within a corporate family
It's an important sales prospecting tool because it allows you to identify potential up-sell and cross-sell opportunities.
Provides information to help meet "Know Your Customer" requirements
Gives you the ability to easily integrate into systems and replace other linkage vendors
Not knowing the linkage relationships a company has with other businesses may lead to a lack of transparency, understanding, and insight needed to make important business decisions not to mention missing out on potential sales opportunities. You can have greater visibility and identify who owns what with D&B's Corporate Linkage which can be accessed through many of its business credit report services.
Ready to build your business credit? Become a member of my Business Credit Insiders Circle and gain access to a proven step-by-step business credit building system. A system that provides you access to vendor lines of credit, fleet cards, business credit cards with and without a PG, funding sources and lenders that report to all the major business credit bureaus. Submit your name and email below for details and receive a free business credit building audio seminar ($597 value) =>

To Your Success In Business and in Life!
Did This Blog Help You? If so, I would greatly appreciate if you like and shared this on Facebook and Twitter.
About the author
Marco Carbajo is a business credit expert, author, speaker, and founder of the Business Credit Insiders Circle. He is a business credit blogger for Dun and Bradstreet Credibility Corp, the SBA.gov Community, About.com and All Business.com. His articles and blog; Business Credit Blogger.com,  have been featured in 'Fox Small Business','American Express Small Business', 'Business Week', 'The Washington Post', 'The New York Times', 'The San Francisco Tribune','Alltop', and 'Entrepreneur Connect'.