Instant Approval Business Credit Card
Does your company need credit fast for an unexpected expense or upcoming purchase?
Instant approval business credit cards are a convenient way to speed up the application process because when you apply online you get a quick decision, usually within minutes, on whether you're approved or declined.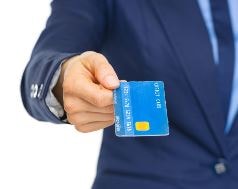 Now before you apply let's go over what to expect. First of all, to get an instant approval, you will need good to excellent FICO® scores. So if your scores are in the 680+ range then you are more likely to get approved.  If you don't know your current credit scores you can obtain all three credit reports and scores at BusinessFundingEngine.procredit.com.
Now if you have limited, fair or bad credit history, you still have plenty of options. Several credit card issuers offer prepaid business cards, secured business credit cards, and instant approval business credit cards specifically for business owners with fair to bad credit ratings. Another alternative to overcoming a credit challenge is through the use of a business credit partner.

Secondly, after you complete and submit an online application the credit card issuer will run a credit check on both you individually and on the business. This will cause a hard inquiry on your credit report so it's important to be selective on where you decide to apply. Did you know certain banks will auto decline you if they see a recent inquiry on your reports from other specific banks?
So what should you do?
A really powerful strategy to consider is leveraging your highest FICO® score/credit report in order to qualify for the best rates and the highest credit limits. The challenge for many business owners is identifying which credit agency a credit card issuer pulls from and what scores will trigger an approval.
Did you know there are hundreds of cards across the big banks with different underwriting criteria across those cards? For example, there are over 100 banks/issuers alone under Elan. Elan is the biggest underwriter but you rarely see their name on anything. Apart from the big banks, there are also hundreds of other banks if you count credit unions and regional banks.
The good news is we can help you leverage your highest score/report with our unsecured business credit card program. Best of all the business credit cards you receive under our business credit lines program only report to the business credit agencies; which protects a business owner's personal credit. Although our approval process takes 24-48 hours, the actual time it takes for you to receive your cards take approximately 14 days.
What if you have fair or bad credit?
Even though the best business credit cards require stellar credit ratings there other alternative options if you have fair to bad credit ratings. In a previous post we talked about business credit cards for bad credit risks. In this post let's discuss how to get an instant approval for a business credit card if you have fair or bad credit.


In just a few easy steps you can apply for an Applied Bank® Visa® Business Credit Card

with no security deposit. All it takes is 60 seconds to complete an application and it's specifically for those business owners with fair or bad credit. The maximum initial credit limit on this card is $500 and the actual credit limit will be determined once a decision is made based on your creditworthiness. Now remember, this card is for business owners with fair or bad credit so make sure you read the terms and conditions before you apply.
Keep in mind credit risk and the approval process is different with every credit card issuer, so an instant approval does not mean you have immediate access to a business credit card. Usually you will have to wait 5-7 days to receive your new credit card in the mail.
Be cautious and don't get caught up in the rapid pace of technology that offers instant gratification because it comes with a price. Instead, take the time to do your research so you can leverage your good credit ratings and obtain the right business credit cards with the best rates, the highest credit limits, and the ability to build your company's creditworthiness.
Until next time…
Ready to build your business credit? Become a member of my Business Credit Insiders Circle and gain access to a proven step-by-step business credit building system. A system that provides you access to vendor lines of credit, fleet cards, business credit cards with and without a PG, funding sources and lenders that report to all the major business credit bureaus. Submit your name and email below for details and receive a free business credit building audio seminar ($597 value) =>

To Your Success In Business and in Life!
Did This Blog Help You? If so, I would greatly appreciate if you like and shared this on Facebook and Twitter.
About the author
Marco Carbajo is a business credit expert, author, speaker, and founder of the Business Credit Insiders Circle. He is a business credit blogger for Dun and Bradstreet Credibility Corp, the SBA.gov Community, About.com and All Business.com. His articles and blog; Business Credit Blogger.com,  have been featured in 'Fox Small Business','American Express Small Business', 'Business Week', 'The Washington Post', 'The New York Times', 'The San Francisco Tribune','Alltop', and 'Entrepreneur Connect'.