Business Credit Building
How do you build business credit fast?
In this short video I recorded with AllBusiness you will learn how to leverage your existing supplier relationships by adding trade references to your business credit file with Dun and Bradstreet.
Discover how you can not only establish credit history in a short period of time but also how to generate a business credit score fast.

Watch this short video recording and let me know what you think:
Building Business Credit Fast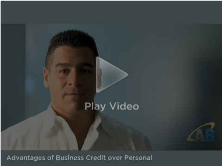 Video Summary:
Leverage existing supplier relationships
Add trade references to your Dun and Bradstreet credit file
Does your company have a biz credit report established with Equifax Small Business, Corporate Experian, and Dun and Bradstreet?
In order to truly present your company as a creditworthy business in the eyes of lenders you will need to have solid business credit scores with not one, not two, but all three major business credit bureaus.
What other ways are you building your business credit in record time?
Ready to build business credit fast? Become a member of my Business Credit Insiders Circle and gain access to a proven step-by-step business credit building system. A system that provides you access to vendor lines of credit, fleet cards, business credit cards with and without a personal guarantee, funding sources and lenders that report to all three major business credit bureaus. Submit your name and email below for details and receive a free audio seminar ($597 value) =>

About the author
Marco Carbajo is a business credit expert, author, speaker, and founder of the Business Credit Insiders Circle. He is a business credit blogger for AllBusiness.com, a subsidiary of Dun and Bradstreet and author of "Eight Steps to Ultimate Business Credit" and "How to Build Business Credit with No Personal Guarantee." His articles and blogs have also been featured in American Express Small Business, Business Week, The Washington Post, The San Francisco Tribune, Scotsman Guide, Alltop, Entrepreneur Connect, and Active Rain.