New Business Loan
Are you looking for a new business loan?
If you're an existing business, looking to acquire an existing business, or buy a franchise; a business term loan may make the most sense to meet your needs. If you're a stand-alone startup looking for funding you may want to consider a personal loan for business rather than a traditional business loan.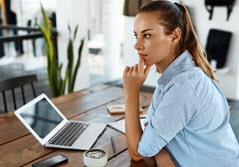 The fact is it's extremely difficult to get a business loan from a lender as a stand-alone startup because it presents the most risk for a lender.  Whereas an existing business has an established track record and a franchise has an existing infrastructure and support of a large corporation.
In today's blog post we are going to go over what it really takes to get a business term loan, who it's ideal for, what are the requirements, and how to apply. With a business term loan, you get a lump sum loan that is paid back with regular monthly payments at a fixed interest rate over a set period of time. Repayment terms can range from 2 to 25 years depending on the lender. This ultimately gives you more time to repay and have lower monthly payments.
It's important to realize if you're applying for a new business loan, you can expect a longer application process (typically 8-12 weeks). You will also be required to furnish many more documents which we'll cover shortly.
Click to continue …