Get a Business Credit Card
Should you get a business credit card?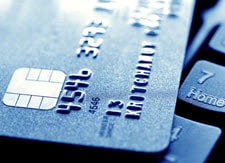 Did you know using a personal credit card for your business and putting personal expenses on it is a formula for a bookkeeping disaster?
Unfortunately, statistics show that of the 65% of small businesses using credit cards, only 50% of those cards are in the company's name.
When it comes to keeping personal and business expenses separate, using a business credit card is by far one of the best tools. "There are plenty of benefits to using a business credit card versus a personal credit card for your small business," says Alison Rouse, a spokeswoman for Capital One. "You'll also have access to business-specific benefits, such as employee cards and spending controls, and specialty services tailored to meet small businesses' needs."
Click to continue …