DUNS Number Listing
Do you plan on getting financing for your business?
How would a business, supplier, vendor, bank or lender get a better understanding of your business' credit history and creditworthiness?
In today's post, we are going to dive into the D-U-N-S® Number and why your business needs one. The greatest benefit of having a DUNS number listing for your company is that anyone looking to assess whether your company is creditworthy will likely look to Dun & Bradstreet to find out.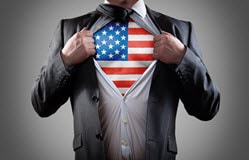 If a DUNS Number listing for your company doesn't exist then your personal credit will most likely play the dominant role for all business credit granting decisions.
Banks almost universally rely on your PAYDEX® score and D&B Score when they are checking your business credit file via the D-U-N-S® Number. Did you know in the first 6 months of 2013, according to Creditera, Dun & Bradstreet had 45 million business credit reports pulled?
In fact, almost all Fortune 500 companies require a D-U-N-S® Number when applying to do business as a supplier, contractor or consultant.

Most small businesses don't have enough of a file established. If the file isn't complete and there isn't enough credit history, they will go back to your personal credit as well according to Jeff Stibel, Vice Chairman at Dun & Bradstreet.
What is a D-U-N-S® Number?
It's a 9-digit number issued by Dun & Bradstreet to identify a business in its database. In fact, over 32 million businesses in the U.S. and more than 225 million businesses worldwide have a D-U-N-S® Number.
Now it's important to understand that having a DUNS Number means that your company has a file listed in D&B's database. But that file could be incomplete if there is little or no information in your business credit file. To start building your D&B credit file be sure to check out our step-by-step business credit building system.
D&B collects its information from third-party sources such as public records, web-mining, reports from vendors, etc.  Unfortunately, some of these resources don't always provide the most accurate or up-to-date information.
With over 1.5 million updates to D&B's database each day there's bound to be inaccurate data being collected. As the business owner, you can always correct and update any mistakes about basic details about your company by logging into iUpdate.
Do you plan on doing business with the federal government as a government contractor or grantee?
A D-U-N-S® Number is required to do business with the following federal government and most state and local agencies:
Department of Defense
Department of Justice
Department of Energy
Department of Agriculture
National Park Service
Here are other key reasons why businesses get a D-U-N-S® Number Listing:
It establishes a universal business identification for the company – The Data Universal Numbering System is the most widely recognized standard for identifying businesses among thousands of companies, marketplaces and regulatory entities.
A DUNS Number enables a business to establish its own unique credit identity – A DUNS Number is linked directly to a company's D&B business credit report. With a DUNS Number, banks, suppliers and lenders can check a company's business information & creditworthiness for faster decision making.
Increased financing opportunities for the business – Many lenders and business credit providers use pre-screening with D&B data to identify potential business customers. These pre-screened offers can be based on the information that is on your business credit file.
Enhanced credibility and verification of existence for the business – A DUNS Number listing indicates that a company exists and is operational. It shows a company's location, contact details, ownership, entity structure, industry classification, number of employees, aliases ("doing business as" designations), and financial data.
So how do you get a D-U-N-S® Number?
You can get a DUNS number by request from Dun & Bradstreet. But did you know your business may already have one?
A D-U-N-S® number can also be created for a business when a supplier, vendor or financial institution requested information about that business through Dun & Bradstreet and no data could be found. At that time, D&B may have generated one for the company without the business owner's permission or knowledge.
To check if your company already has a DUNS number check out our post on DUNS Lookup for step-by-step directions.
If you find that you already have a DUNS number then the next step is to check your D&B business credit report to ensure the information being reported about your company is accurate and up to date. To view and update your existing business credit file requires that you register with iUpdate which is a free tool provided by D&B.
If you own a business or plan on starting one you should consider obtaining a D-U-N-S® number listing. Remember, as with any business credit reporting database, getting a D-U-N-S® Number creates a public footprint that lets others find out about your business.
Ready to build your business credit file? Become a member of my Business Credit Insiders Circle and gain access to a proven step-by-step business credit building system. A system that provides you access to vendor lines of credit, fleet cards, business credit cards with and without a PG, funding sources and lenders that report to all the major business credit bureaus. Submit your name and email below for details and receive a free business credit building audio seminar ($497 value) =>

To Your Success in Business and in Life!
Did This Blog Help You? If so, I would greatly appreciate if you like and shared this on Facebook and Twitter.
About the author
Marco Carbajo is a business credit expert, author, speaker, and founder of the Business Credit Insiders Circle. He is a business credit blogger for Dun and Bradstreet Credibility Corp, the SBA.gov Community, Business.com, About.com and All Business.com. His articles and blog; Business Credit Blogger.com, have been featured in 'Fox Small Business','American Express Small Business', 'Business Week', 'The Washington Post', 'The New York Times', 'The San Francisco Tribune','Alltop', and 'Entrepreneur Connect'.