What is Dun and Bradstreet?
Do you know what Abraham Lincoln, Ulysses S. Grant, Grover Cleveland, and William McKinley all have in common other than being U.S. Presidents?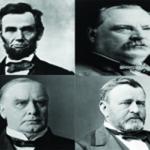 They all worked as credit reporters at The Mercantile Agency, a predecessor to Dun and Bradstreet.
The history behind the business credit reporting giant, Dun and Bradstreet, is fascinating stemming all the way back to an American businessman and entrepreneur known as Lewis Tappan.

Tappan founded The Mercantile Agency in 1841 with a mission to provide businesses with a reliable source of credit information to help them in their decision-making process.
Five years later he turned over control to Benjamin Douglass who pioneered the development of a national network of highly trained reporters and interpreters of credit information known as "credit reporters".
In 1854, Douglass brought in his brother-in-law, Robert Graham Dun, who later renamed the company R.G. Dun & Company. Dun continued the company's expansion on both a national and international scale.
During this time R.G. Dun and Company wasn't the only business providing credit information. The John M. Bradstreet Company was a direct competitor and had a unique advantage during that time with its use of credit ratings.
What happened next influenced the evolution of the business information industry on a global scale.
It was the birth of Dun and Bradstreet which came as a result of the economic depression of 1933. Where Dun's CEO, Arthur Whiteside, brokered a deal between R.G. Dun and John M. Bradstreet to form the Dun and Bradstreet Corporation. With visionary leadership, Whiteside led DNB out of the depression and into the Information Age.
In 1963 one of the main cutting-edge technologies developed by Dun and Bradstreet was the Data Universal Numbering System (DUNS Number).
This numbering system was created to help standardize business information. Each DUNS Number consists of a nine-digit number that is unique to each company with more than 50 global, industry, and trade associations recommending and/or requiring that businesses have one.
It has become universally accepted as a standard business identifier for the United Nations, the European Commission and the United States Government.
Many suppliers, creditors, banks, businesses, and finance companies require credit applicants to provide a DUNS Number in order to review the company's credit report prior to extending credit.
Three main benefits DNB's business information provides include:
1)      Reduced credit and supplier risk
2)      Increase revenues from new and existing customers
3)      Research companies, executives and industries
As you can see it's vital for a business to obtain a Dun and Bradstreet Number and establish a credit profile because it has a profound impact on a company's ability to grow, access capital, work with the government, secure vendors and partner with preferred providers.
Today, Dun and Bradstreet (DNB) is the leading provider of business information and insight for risk management, sales and marketing, and supply management decisions worldwide.
With more than 130 million companies listed in its database spanning across 190 countries it's no surprise that over 100,000 companies worldwide use Dun and Bradstreet's commercial information.
Do you know if your company has a Dun and Bradstreet ID Number?
Ready to start building your DNB credit profile? Become a member of my Business Credit Insiders Circle and gain access to a proven step-by-step business credit building system. A system that provides you access to vendor lines of credit, fleet cards, business credit cards with and without a PG, funding sources and lenders that report to all the major business credit bureaus. Submit your name and email below for details and receive a free audio seminar ($597 value) =>

About the author
Marco Carbajo is a business credit expert, author, speaker, and founder of the Business Credit Insiders Circle. He is a business credit blogger for AllBusiness, a subsidiary of Dun and Bradstreet and author of "Eight Steps to Ultimate Business Credit" and "How to Build Business Credit with No Personal Guarantee." His articles and blogs have also been featured in American Express Small Business, Business Week, The Washington Post, The San Francisco Tribune, Scotsman Guide, Alltop, Entrepreneur Connect, and Active Rain.