Get a Free DUNS Number
Is your business interested in doing business with the Federal Government?
Did you know in order to receive funding from contracts or grants, your company must be registered in the System for Award Management (SAM)?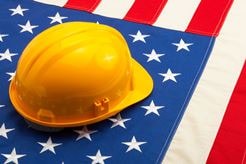 In today's post we're going to talk about what it takes to participate in government contracting opportunities. The U.S. Federal Government spends trillions of dollars on small business every year making it the single largest purchaser of goods and services in the world.
The opportunities that are available for small businesses like yours to participate in government funded contracts are incredible. Contracting officers purchase everything they need from private companies and contractors because the Government doesn't manufacture anything on its own. So before you can take advantage of any federal contracts you must be registered in SAM.

What is SAM?
SAM is the Official U.S. Government system that combined the capabilities of CCR/FedReg, ORCA, and EPLS. To put it simply, rather than entering your company information in multiple systems, SAM merged it all into one platform. Now there's one system with one user login.
Now if you previously registered in CCR you will still need to create a new SAM User Account to register or update your business entity records. Unfortunately your old CCR username will not work in SAM.
Now if you have not registered with SAM, then you will need to create an individual user account and then log into SAM to register your entity. Once you start the registration process your file will be in draft status until you complete the Core Data section. Keep in mind until you complete the core information section; your registration in SAM is not searchable.
To register your company you must have the following information ready:
For U.S. registrants:
1) DUNS Number – If you don't have a DUNS Number, you can request one for free from D&B at http://fedgov.dnb.com/webform. As you know a Dun & Bradstreet Number is a unique nine-character number used to identify your company. The federal government uses this number to track how federal money is given out.
Here is the information you will need to obtain a DUNS Number:
Name of the company
Company address
Name of the chief executive officer (CEO) or owner
Legal structure of the business (corporation, partnership, limited liability company, etc.)
Year the business was started
Primary type of business
Number of employees (full and part-time)
Note: When getting a DUNS number, D&B places your organization on their marketing list that is sold to other companies. If you do not want your organization included on this marketing list, you should request not to be listed when you apply.
2) Legal Business Name
3) Physical Company Address as listed on your D&B profile
4) Taxpayer Identification Number (TIN) and Taxpayer Name – Review your tax documents from the IRS (such as a 1099 or W-2 form) to find your Taxpayer Name.
5) Banking Information – You company's bank routing number, bank account number, and bank account type, i.e. checking or savings, to set up Electronic Funds Transfer (EFT).
For international registrants:
1) NATO Commercial and Government Entity (NCAGE) Code – If you don't have an NCAGE Code, you can apply online by going to https://eportal.nspa.nato.int/AC135Public/scage/CageList.aspx
2) DUNS Number – If you do not already have a DUNS Number, you can request one for free from D&B at http://fedgov.dnb.com/webform.
3) Legal Business Name
4) Physical Address as listed on D&B profile – DUNS information and NCAGE information must match.
If you already started your registration with the System for Award Management you can always check your status by entering your DUNS number or (N)CAGE Code in the SAM Status Tracker. The tracking system will show you the status of your company plus any steps that still need to be completed by you.
After all the information is submitted it may take up to twelve business days for your registration to get processed. Once the review is complete you will be notified via email.
Once your company registration is successfully processed it becomes Active in SAM. It will remain active for 365 days from the date you submitted it for processing, unless it is deactivated by your Entity Administrator. Remember, you must log into SAM, review your registration information, update as necessary, at least once within the 365 days, or your record will expire.
*Check out this SAM User Guide which focuses on SAM Phase 1.
Until next time…
Ready to build your business credit? Become a member of my Business Credit Insiders Circle and gain access to a proven step-by-step business credit building system. A system that provides you access to vendor lines of credit, fleet cards, business credit cards with and without a PG, funding sources and lenders that report to all the major business credit bureaus. Submit your name and email below for details and receive a free business credit building audio seminar ($597 value) =>

To Your Success In Business and in Life!
Did This Blog Help You? If so, I would greatly appreciate if you like and shared this on Facebook and Twitter.
About the author
Marco Carbajo is a business credit expert, author, speaker, and founder of the Business Credit Insiders Circle. He is a business credit blogger for Dun and Bradstreet Credibility Corp, the SBA.gov Community, About.com and All Business.com. His articles and blog; Business Credit Blogger.com,  have been featured in 'Fox Small Business','American Express Small Business', 'Business Week', 'The Washington Post', 'The New York Times', 'The San Francisco Tribune','Alltop', and 'Entrepreneur Connect'.