Have you been asked to provide a personal guarantee?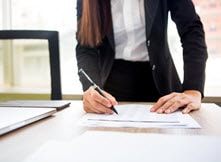 In today's post let's clear up the confusion surrounding the PG. After reading this post you'll know what is a personal guarantee, what it's not, ways to get around supplying a PG and why in some cases you can't avoid it.
What is a personal guarantee?
In a nutshell, a personal guarantee is a written promise from a business owner guaranteeing that payment will be made in the event that the business fails to pay. Whether the business enters into a lease, applies for a business loan or line of credit, you'll find that many creditors will require a personal guarantee to secure financing especially if you're a small business.

Why do lenders require a personal guarantee?
A personal guarantee is simply an "added assurance" to a lender that the business owner is dedicated to repaying the company's outstanding financial obligations to the lender. If a business owner is not willing to supply a personal guarantee then from the lender's perspective the owner's not willing to stand behind the company. If that's the case then why should the lender take the risk?
By supplying a personal guarantee the creditor will have recourse to the guarantor in the event that the business defaults. Look at it as a way for the creditor to have a backup to ensure any outstanding debt that the company owes will get paid. Even if you have structured your company as a corporation or limited liability company, you are personally responsible for the company's loan or business line of credit  in the event of default if you supplied a personal guarantee.
Most types of business financing requires a personal guarantee if you are a small business which includes the following:
Traditional bank loans and lines of credit
Online loans
Invoice factoring
Revolving lines of credit (there are exceptions)
SBA loans
What a personal guarantee is not.
One major confusion surrounding the PG is how it impacts the guarantor's personal credit. When you supply a PG it does not mean that the creditor will report the financial obligation to the business owner's personal credit reports. Many business owners think that by supplying a personal guarantee the financial obligation automatically reports to their personal credit. That is not the case and it depends on the creditor how they decide to share their payment data.
For example, although our unsecured business credit lines program (UBF) requires a personal guarantee, none of the payment activity or debt that you carry on those credit lines report to your personal credit. These particular business credit lines only report to the business credit reporting agencies.
How do you get around a PG?
Net accounts are easy to get without having to supply a personal guarantee. From a vendor's perspective the risk is minimal because the credit terms are short, usually 30-60 days, which enables a supplier to get their money back in a relatively short period of time. In some instances a vendor may require a down payment with each order to offset their exposure to credit risk.
Leases are another form of financing that may enable you to avoid supplying a personal guarantee. The reason is the equipment or vehicle itself serves as collateral which minimizes the risk of loss to the lessor. Although many lessors do require a personal guarantee, each one has different requirements which may not require a PG if your company has healthy financials and/or strong business credit reports.
For example, GM's Right Lease program is a closed-end commercial lease product that allows you to choose whether to supply a personal guarantee or corporate guarantee.
Another way to get around a personal guarantee is if your company has strong revenues or has been in business for several years with a number of employees. The fact is medium and large-sized businesses are less likely to default on financial obligations in the eyes of lenders.
For example, Sam's Club Business MasterCard does not require a personal guarantee for companies with over 5 million in annual sales or companies that are over 2 years old with 10 or more employees. Granted your company will need a strong business credit report since Synchrony Bank checks your company's credit as part of its underwriting process for the Sam's Club business credit card.
Finally, a powerful business credit report may enable a company to obtain business credit without supplying a personal guarantee with certain card issuers.
So what is considered a strong business credit report that justifies no PG?
For starters a company should have a minimum of 10 trade lines reporting on all three major business credit files (Dun & Bradstreet, Experian Business & Equifax Small Business) with at least one trade line reporting a $10k credit limit. Secondly, payment history of at least 12 months and a proper blend of credit play a factor as well.
What steps should I take in order to obtain business credit with no personal guarantee?
Here are five key steps to building a business credit profile that may enable your company to acquire no personal guarantee business credit.
Step 1 – Establish 10 vendor credit accounts that report to the business credit reporting agencies. (access via our Business Credit Building System) As you use your credit lines to purchase products/services to grow your business and pay your invoices on time, your company will establish positive payment history on its credit file. Keep in mind, many vendors offering net 30 credit terms do not require a personal guarantee.
Step 2 – If you meet the personal credit requirements then consider enrolling in our UBF program where we get your company 3-4 revolving lines of business credit that only report to the business credit reporting agencies. This funding program sets your company up with 3-4 revolving lines of credit from banks that report on your business credit reports which builds the diversity of your profile.
This also enables a startup or existing business to gain access to cash on demand while positioning the company for potential credit limit increases every 6-12 months not too mention 0% APR on purchases for 9/12/24 months. If you have bad personal credit then consider opening 1-2 secured business credit cards as an alternative.
Step 3 – Open 1-2 fleet cards that report to the business credit reporting agencies. This card account is a good account to have since it's used as a payment card for gasoline and can be used for vehicle maintenance for your business. Unlike a business credit card, a fleet card is designed to be used solely for expenses related to your company vehicle. If purchasing fuel is an ongoing business expense for your company then using a fleet card is is a great way to build payment activity on your business credit reports.
Step 4 – Optional – Lease equipment or a vehicle in the company's name.
Step 5 – Once you have completed these steps your company will be in a position to apply for the business credit card accounts listed in our business credit building system that do not require a personal guarantee.
While personal guarantees are nothing new, PGs have become more common as banks have become more conservative in their lending practices when dealing with small businesses. Although with some funding programs it may not be possible to completely avoid a PG, small business owners do have options such as the ones we have listed in this post.
Remember, even after a PG is signed, you can always approach the bank to reopen negotiations of guarantee terms based on changes in your company's performance such as stronger revenues or additional collateral.
Ready to start building your business credit? Become a member of my Business Credit Insiders Circle and gain access to a proven step-by-step business credit building system. A system that provides you access to vendor lines of credit, fleet cards, business credit cards with and without a PG, funding sources and lenders that report to all the major business credit bureaus. Submit your name and email below for details and receive a free business credit building audio seminar ($497 value) =>

To Your Success in Business and in Life!
Did This Blog Help You? If so, I would greatly appreciate if you like and shared this on Facebook and Twitter.
About the author
Marco Carbajo is a business credit expert, author, speaker, and founder of the Business Credit Insiders Circle. He is a business credit blogger for Dun and Bradstreet Credibility Corp, the SBA.gov Community, Business.com, About.com and All Business.com. His articles and blog; Business Credit Blogger.com, have been featured in 'Fox Small Business','American Express Small Business', 'Business Week', 'The Washington Post', 'The New York Times', 'The San Francisco Tribune','Alltop', and 'Entrepreneur Connect'.