Net 30 Business Credit Accounts
Don't apply for net 30 accounts for your business until you read this post.
Now I know you can easily search on Google to find business credit accounts online; in particular net 30 accounts, but the reality is not all the results you see will truly help build up your business credit reports.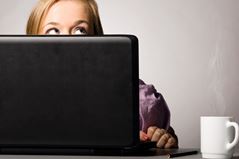 Let me be the first to say that the net 30 business accounts you obtain should be from vendors and suppliers that offer products and/or services that your business can actually use. It makes no sense to apply for credit with a vendor that has no products your company needs.
Just the other day a business owner told me that he didn't have an extra $300 a month to spend on products to build his company's credit. I told him that he was totally missing the point of building credit for his business. It's not about going out and buying stuff you don't need so you can establish trade-lines. Instead, it's about getting credit that your company already uses or could use to build and grow.

Our conversation did have a happy ending though, after a few more minutes of questions we identified hundreds of dollars a month his business was already spending but not getting credit for. It was simply a strategy of adding existing trade references along with acquiring additional new net 30 accounts that he didn't have but needed.
Remember, there are more than enough types of vendor credit lines you can get that your business can actually use to accomplish the same goal.
Here are some quick facts about net 30 business credit accounts
You can conserve a good amount of cash by getting products/services your company needs and deferring the payment for 30 days.
You can get net 30 business accounts based upon verification of as little as an EIN number and a 411 listing. This is especially helpful if you have bad personal credit.
When your first net 30 account reports your "tradeline" to Dun & Bradstreet, the DUNS system will automatically activate your file if it isn't already. This is also true for Experian Business and Equifax Small Business.
Some net 30 vendors require that you prepay on your first order before they can approve your business for credit terms.
You must be patient and allow time for the vendors' reporting cycles to get into the reporting systems. Keep in mind you are at the mercy of the vendor's reporting cycle unless you add the trade references yourself. (You can manually add only non-reporting vendors)
It's important to choose your net 30 business accounts wisely. Not all vendors report and not all vendors report regularly. Some vendors report quarterly and some report semi-annually!
You also want to avoid getting declined at all costs. Too many denials of credit can trigger a red flag to other vendors when they check your company's credit report.
Now you're probably scratching your head right about now wondering where you can get net 30 business credit accounts that report monthly while minimizing the risks of getting declined.
Thought you would never ask.
You basically have two options:
The Shotgun Approach – This approach is all about applying for credit across a wide area of vendors without knowing if they report and what it takes to get approved. It's a risky approach and can trigger a red flag if you're not careful.
The Targeted Approach – Rather than firing blindly across the credit spectrum you can use our highly researched database of reporting net 30 business accounts. Once you access your business credit building system, you will be able to see what each vendor requires to approve your business and best of all we show you which business credit agency they report to.
This approach enables you to target the types of net 30 business accounts your company needs and can benefit from via business credit reporting.
Until next time …
To get net 30 business accounts that report to the business credit agencies become a member of my Business Credit Insiders Circle and gain access to a proven step-by-step business credit building system. A system that provides you access to net 30 vendors, fleet cards, business credit cards with and without a PG, funding sources and lenders that report to all the major business credit agencies. Submit your name and email below for details and receive a free business credit building audio seminar ($597 value) =>

To Your Success In Business and in Life!
Did This Blog Help You? If so, I would greatly appreciate if you like and shared this on Facebook and Twitter.
About the author
Marco Carbajo is a business credit expert, author, speaker, and founder of the Business Credit Insiders Circle. He is a business credit blogger for Dun and Bradstreet Credibility Corp, the SBA.gov Community, About.com and All Business.com. His articles and blog; Business Credit Blogger.com,  have been featured in 'Fox Small Business','American Express Small Business', 'Business Week', 'The Washington Post', 'The New York Times', 'The San Francisco Tribune','Alltop', and 'Entrepreneur Connect'.