Unsecured Business Line of Credit
Getting an unsecured business line of credit is one of the most popular financing tools business owners want to have access to.  I'm sure the title got your attention because who wouldn't want the #1 type of credit line for their business right?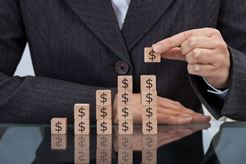 Well, what I didn't want to do is tell you what the best type of unsecured business credit line is without showing you how to qualify for it. Now I know saying something is #1 is a bold statement so in this post I'm going to back up that claim by stacking up a few key points to make my case, fair enough?
Good, let's get started.
First of all, let's define what an unsecured business line of credit is. It's a credit line that provides access to funds as your business needs it with no collateral or security interest required.

You only pay finance charges on funds you use from the line of credit. The funds can be used for things such as meeting payroll, issuing payments to suppliers, or making business purchases. This flexibility is what makes it such an attractive source of financing for businesses.
Now, there are two main types of unsecured business lines of credit; traditional and non-traditional. A traditional business line of credit is issued by a bank where you can write checks against the credit line for any type of business expense. A non-traditional business line of credit is in the form of a business credit card which you can use for purchases or cash withdrawals from an ATM.
While both types of lines are unsecured and offer the flexibility we want, one of them is by far much more appealing and easier to qualify for.
So which is it?
In my opinion the #1 type of unsecured business line of credit is the business credit card.
The reason is; non-traditional lines of credit have many more advantages over the traditional lines of credit issued by banks. To support my case, let's break this down one by one:
1) Qualification – obtaining an unsecured business line of credit at a bank requires an extensive amount of documentation such as financials, personal tax returns, business tax returns, credit references, business registration documents, bank account information, etc.
When it comes to qualifying for a non-traditional line of credit (unsecured business credit card) all that is required is a strong FICO® score. How's that for easy qualification?
2) Interest Rates – while both types of credit lines offer a much better rate of interest compared to a business loan; the business credit cards I suggest have a 0% APR for the first 12 months which can add up to a great deal of savings.
3) Renewal requirement – did you know a line of credit issued by a bank is subject to an annual review? You read that right, not only is qualifying for this credit line a pain, but it's an ongoing headache because you have to keep re-qualifying to keep the credit line open.  You have to continue to submit tax returns and other business and financial information from time to time in order to renew your line of credit. Starting to get the picture?
With a business credit card there are no annual reviews or ongoing submission of tax returns or financials to keep the credit line open. This alone should provide you complete peace of mind.
How can you qualify?
With a personal FICO® score of more than 690, you are in a great position to get unsecured business lines of credit  that only reports to your business credit reports. This not only protects your personal credit ratings but also enables you to start building the creditworthiness of your business too. If you're in the 725+ FICO® score range than you may want to consider elite high credit limit credit cards.
Our underwriters know; people with good credit are a good risk. But even more powerful than that; people with good personal and business credit scores are an even better risk.
How to Pre-Qualify for Unsecured Business Lines of Credit

Step 1 – Obtain a tri-merged personal credit report and FICO® at http://knowmycredit.org
Step 2 – Download a copy of your tri-merged credit report in PDF format
Step 3 – Go to http://businessfundingreview.com and complete the short form and upload your credit report
Allow 24/48 hrs. for our underwriting team to complete the review. We will contact you via phone with funding projections and next steps for moving forward. The funding process takes approximately 20 days.
If you are faced with FICO® scores below 690 than why not consider using a credit partner? There are also some simple credit boosting strategies you can implement if you need to improve your scores by 20-30 points.
Read to apply for unsecured business credit cards that only report to your business credit but have questions? Submit your information below and a funding specialist will contact you within 24 hours. Plus receive my FREE business credit seminar audio & newsletter ($597 value)=>
To Your Success In Business and in Life!
Did This Blog Help You? If so, I would greatly appreciate if you like and shared this on Facebook.
About the author
Marco Carbajo is a business credit expert, author, speaker, and founder of the Business Credit Insiders Circle. He is a business credit blogger for Dun and Bradstreet Credibility Corp, the SBA.gov Community, About.com and All Business.com. His articles and blog; Business Credit Blogger.com, have been featured in 'Fox Small Business','American Express Small Business', 'Business Week', 'The Washington Post', 'The New York Times', 'The San Francisco Tribune','Alltop', and 'Entrepreneur Connect'.