Start Building Business Credit
With a New Year just around the corner this is a time for small business owners to benchmark overall performance and set plans for moving forward in the year 2016.
In a lot of ways this was a year of innovation, change, and efficiency in small business lending. Although big banks have loosened their belts and started lending again; their focus still remains on issuing large loans to big businesses.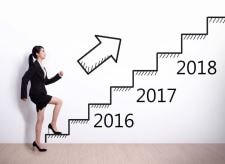 Since applying for a loan or line of credit with a bank requires a small business owner to produce a plethora of documentation such as financials, personal tax returns, business tax returns, etc.; alternative lending and non-traditional lines of credit  have become a much more viable and attractive option for small business owners.
I'm sure you've seen the rise of online business lending platforms pop up over the internet this year alone.  Online platform such as Kabbage are working hard to fill the void in the marketplace for quick and easy business loans online. There is no question the demand for fast, cost-effective, go-to funding sources for small business owners will continue to grow in the upcoming year.

As you know in order to support a business's future growth, access to business credit is crucial; it's the lifeline of a business.  Here are eight compelling reasons to start building business credit in the New Year.
1) Keep personal and business finances separate – By establishing credit in the name of your business you create a distinct separation between your personal and business expenditures. This is one of the most important steps you can take to protect the integrity of the corporate veil and save time and money with accounting and bookkeeping. Did you know if you operate a corporation or limited liability company, you can be held personally responsible for company debts if there is no clear distinction between your business and personal expenses?
2) Build a credit identity for the business – One of the most essential financial tools for a business to have is credit.  By creating a business identity with the major business credit reporting agencies such as Dun & Bradstreet, Experian Business, and Equifax Small Business, the business creates its own credit history, scores & ratings. With a creditworthy company you gain better access to borrowing power.
3) Protect your personal credit reports – Your personal credit reports are connected to you by your Social Security number. Your business credit reports are linked to your company by your Employer Identification Number (EIN) or Tax ID Number, which is how the government recognizes your business for tax purposes. As you build business credit it's important to realize there are many credit sources that only report to your business credit reports such as vendor credit, high limit business credit cards and fleet cards.
4) Protect and improve personal FICO® Scores – The main benefit to putting your business purchases on a high limit business credit card is that your business credit cards' activity reports only on your business credit report and any balances you have there don't affect your personal FICO® scores.
As you know the utilization of your credit is the number one factor in determining your FICO® scores. Ideally, your business purchases and revolving debts should only reflect on your company's credit reports. If you currently have business debts on personal credit cards you can transfer those balances to your business credit card which will improve your personal credit utilization ratio and positively impact your FICO® Scores.
5) Limit personal liability for business debts – If you use personal credit to run your company, you put yourself at risk if your company fails or experiences financial challenges. Creditors will come after you since you will be personally liable for the debts incurred by the business. By incorporating your business and building credit in the name of the company you limit your personal liability. While few business credit cards may have no personal guarantor, many business credit cards require a personal guarantor, where you, as an individual, share responsibility for the business debts with your company.
6) Maximize your company's fundability – As your company applies for and receives credit with a supplier or lender, the account history you establish with that creditor gets added to your company's business credit report. In addition, this account relationship becomes a trade reference that can be used on future credit applications.
Your company's business credit report/score will then become a tool for suppliers and lenders to use in order to determine whether or not your company is creditworthy. If you have a strong business credit file, you are much more likely to be approved for business loans, lines of credit and other forms of business financing.
7) Establish a business credit asset – "A business credit score is one of the first things lenders, suppliers and some customers look at before deciding to do business with a company," said Laura DeSoto, senior vice president for Experian's Business Information Services. "The insight that a business credit report provides, enables small business owners to take any necessary actions that will affect future growth. By spending dedicated time and resources building business credit, a company is establishing good management habits, which can help them obtain the resources they will need."
As you can see building good business credit reports/ratings can be an invaluable asset for your business and play a crucial role in helping you get the funding you need, as well as receive much more favorable terms and lower interest rates.
Ready to start building business credit? Become a member of my Business Credit Insiders Circle and gain access to a proven step-by-step business credit building system. A system that provides you access to vendor lines of credit, fleet cards, business credit cards with and without a PG, funding sources and lenders that report to all the major business credit bureaus. Submit your name and email below for details and receive a free business credit building audio seminar ($597 value) =>

To Your Success In Business and in Life!
Did This Blog Help You? If so, I would greatly appreciate if you like and shared this on Facebook and Twitter.
About the author
Marco Carbajo is a business credit expert, author, speaker, and founder of the Business Credit Insiders Circle. He is a business credit blogger for Dun and Bradstreet Credibility Corp, the SBA.gov Community, Business.com, About.com and All Business.com. His articles and blog; Business Credit Blogger.com,  have been featured in 'Fox Small Business','American Express Small Business', 'Business Week', 'The Washington Post', 'The New York Times', 'The San Francisco Tribune','Alltop', and 'Entrepreneur Connect'.