Monitor Your Business Credit Report
It's essential for small business owners to keep a close eye on their business credit reports. The fact is a business credit report impacts your company's financial and funding ability. It affects financing costs, credit terms, interest rates, insurance premiums, credit limits, and much more.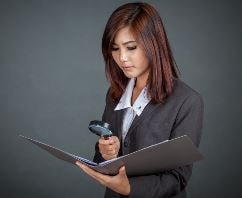 Did you know business credit reports and scores are constantly changing? They change because of a variety of factors, including the number of reported transactions, outstanding balances and whether you pay invoices on time. One of the advantages of having ongoing access to your company credit file is to know your current credit standing. This is especially useful to know before you apply for additional credit.

For example, if you recently paid off an outstanding invoice it would be to your advantage to wait for the report to reflect the pay down prior to applying for new credit. By subscribing to a business credit monitoring service you would have the ability to do that.
Another advantage is protecting your company's credit information. In today's day and age a new and growing threat facing business owners is business identity theft. As you know prevention is the best protection. "What is particularly disturbing about this trend is the significant dollar amounts involved. It's not unusual for the losses to be in the mid-six figures by the time the criminal activity is detected." says Robert Strezze, Sr. Risk Analyst for Dun & Bradstreet.
By monitoring your business credit files daily and being alerted to any changes occurring such as address, scores, filings, and newly opened accounts; may protect you from potential fraud or theft.
Finally, ensuring that your report is accurate and up-to-date with the business credit agencies is crucial as it impacts the following financial decisions:
How much business credit a supplier will extend to you
What interest rates you will pay
How much financial institutions will loan to you
How your customers view your company
What your insurance premiums will be
The level of potential interest an investor may have
So how do you monitor your business credit reports?
As you know there are three major consumer credit agencies; Equifax, Transunion and Experian. When it comes to businesses there are three major business credit reporting agencies known as Dun & Bradstreet, Experian Business and Equifax Small Business.
Each credit agency has its own credit monitoring service that you can subscribe to. In this post we will be cover how to monitor your Dun & Bradstreet business credit report. Keep in mind it's one thing to receive free alerts via CreditSignal® but it's another to be able to view your entire business credit report via a monitoring service.
With D&B®'s CreditMonitor™ service you get unlimited real-time access to your report, scores and ratings.
Additional benefits include:
Get a D&B D-U-N-S® Number and business credit file in 5 days or less.
See detailed explanations about your D&B® scores and ratings
Receive alerts about changes in your business credit file
Anticipate reactions from existing partners and lenders
Understand the factors that impact your business credit report
Know where your business stands compared with industry averages
As a CreditMonitor™ customer D&B® also provides Business Advantage Plus†, powered by Legalzoom® which includes the following:
Unlimited online access to 160+ legal forms
Alerts to help keep your business in good standing with the government
For business owners, it's essential to continuously monitor your report for changes and inquiries about your business. Remember, unlike the protection that is provided for consumer credit reports, if a business has a credit report, virtually anyone can order a copy of it because business credit reports are intended to foster and promote commerce.
Unfortunately, business credit reports contain a great deal of information that can also be misused by business identity thieves. Monitoring your report also allows you to develop a plan to improve your company's creditworthiness by analyzing your file's strengths and weaknesses.
So be proactive and prepared by knowing what suppliers and creditors will see when they review your business credit report by monitoring your files today.
Ready to start building your business credit? Become a member of my Business Credit Insiders Circle and gain access to a proven step-by-step business credit building system. A system that provides you access to vendor lines of credit, fleet cards, business credit cards with and without a PG, funding sources and lenders that report to all the major business credit bureaus. Submit your name and email below for details and receive a free business credit building audio seminar ($597 value) =>

To Your Success In Business and in Life!
Did This Blog Help You? If so, I would greatly appreciate if you like and shared this on Facebook and Twitter.
About the author
Marco Carbajo is a business credit expert, author, speaker, and founder of the Business Credit Insiders Circle. He is a business credit blogger for Dun and Bradstreet Credibility Corp, the SBA.gov Community, Business.com, About.com and All Business.com. His articles and blog; Business Credit Blogger.com,  have been featured in 'Fox Small Business','American Express Small Business', 'Business Week', 'The Washington Post', 'The New York Times', 'The San Francisco Tribune','Alltop', and 'Entrepreneur Connect'.