Get Small Business Credit
Do you know what type of credit and funding your company may qualify for today?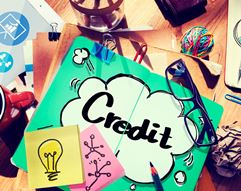 I'm sure we can agree that there's nothing more frustrating for a small business owner than not having access to the funds needed to grow a business.
Unfortunately, the most common mistake business owners make is applying for credit without knowing which factors play a role for each type of funding option.
Here are the top ten elements that impact the most popular forms of credit and financing for businesses today.
1) Personal FICO® Scores – It's remarkable how strong FICO® scores (720+) streamline the credit granting process. The fact is with strong FICO® Scores you have more funding options available. For example, unsecured business credit lines, business loans & SBA loans all factor in personal credit scores as part of their underwriting requirements.  Now if you have low scores you can always utilize a business credit partner to secure the funding you need.

2) Personal Credit Reports – While FICO® scores enable lenders to get a quick snapshot of your creditworthiness; your personal credit reports show the level of depth you've established. It shows the types of credit you use, the length of time your accounts have been open, and whether you've paid your bills on time. It shows lenders how much credit you've used and whether you're applying for new sources of credit. With well-established reports consider leveraging that to your advantage. Consider obtaining high limit credit cards for your company that report only to the business credit reporting agencies.
3) Business Credit Scores/Ratings – Business credit scores and ratings such as Paydex®, D&B Viability Rating™, CreditScore℠, FICO® SBSS Business Score and many others are used by lenders, suppliers and banks to make small business credit decisions.
In fact, since 2003, the Small Business Administration (SBA) has used the Small Business Risk Portfolio Score in its 7(a) and 504 loans programs and the FICO® SBSS Business Score since 2007. So a business with established business credit ratings enables lenders and suppliers to assess the overall creditworthiness of a business rather than simply relying on the credit standing of the individual business owner.
4) Business Credit Reports – While business credit scores/ratings enable lenders, suppliers and banks to get a quick view of a company's risk level; business credit reports show detailed information about a company such as background info, financial data, payment trends, company size, payment history and public filings. Business credit reports impact all aspects of a company's operation such as creditworthiness, insurance premiums, and its ability to obtain government contracts, potential partnerships & joint ventures.
5) Business Bank Deposits – The deposits coming into a company's bank account is a strong indicator used to determine the strength of a business. If a business generates revenue, but despite positive cash flow, still can't get a bank loan because of poor scores/reports and/or lack of collateral it may be able to obtain a loan via revenue based financing.
6) Business Plan – A formal business plan is required if a company is looking for investors or applying for a commercial loan. For example, SBA loan programs require a business plan to be submitted with the loan application. The business plan should include a complete set of projected financial statements, including profit and loss, cash flow and a balance sheet.
7) Credit Card Sales – There are several ways a business with credit card sales can obtain the cash and credit needed to grow a business. Two popular funding options available that base their funding decisions on credit card sales are merchant cash advances and business loans through Kabbage.
8) Outstanding Invoices – Invoicing and receiving payment from customers is a crucial part of starting and running a business. Waiting 30, 60 or 90 days to receive payment can put a strain on your company's cash flow. One way to get cash for outstanding invoices is through factoring. However, a popular alternative to clearing invoices and getting the cash you need without factoring is with a company called Fundbox.
9) Open Purchase Orders – Does your company have open purchase orders? One funding option known as purchase order financing, provides capital upfront for verified purchase orders so a business can fulfill a large order without depleting its cash reserves.
10) IRA & 401K Investments – Business owners with 401(k) or IRA investments will end up paying hefty taxes or early-withdrawal penalties to use their funds early to start or buy a business or franchise. An alternative funding solution is through the use of a business directed retirement account which can save thousands in penalties and income tax.
Well, there you have it. Ten factors that impact your ability to get business credit for your company. Now that you better understand what types of programs you may be able to qualify for; let this also be a guide to help you focus on what areas need to be improved on so you can maximize your company's funding ability.
Ready to get business credit for your company? Become a member of my Business Credit Insiders Circle and gain access to a proven step-by-step business credit building system. A system that provides you access to vendor lines of credit, fleet cards, business credit cards with and without a PG, funding sources and lenders that report to all the major business credit bureaus. Submit your name and email below for details and receive a free business credit building audio seminar ($597 value) =>

To Your Success In Business and in Life!
Did This Blog Help You? If so, I would greatly appreciate if you like and shared this on Facebook and Twitter.
About the author
Marco Carbajo is a business credit expert, author, speaker, and founder of the Business Credit Insiders Circle. He is a business credit blogger for Dun and Bradstreet Credibility Corp, the SBA.gov Community, Business.com, About.com and All Business.com. His articles and blog; Business Credit Blogger.com,  have been featured in 'Fox Small Business','American Express Small Business', 'Business Week', 'The Washington Post', 'The New York Times', 'The San Francisco Tribune','Alltop', and 'Entrepreneur Connect'.