Incorporate Online
These days you can do pretty much everything online from shopping, chatting with friends, conducting business meetings, filing taxes, and yes even incorporating a business.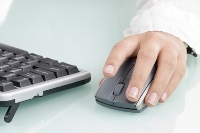 Incorporating online has truly come a long way making it so much easier and convenient for business owners like you. If  are getting ready to incorporate then you'll find this post helpful on what to expect when choosing an entity formation service.
First things first, before you decide to form your business, take into consideration where you are going to physically be doing business.

I'm sure you've probably heard the all too familiar benefits of incorporating in Nevada or Wyoming because of their tax and privacy advantages. Or you may you have heard about the benefits of Delaware because of its court system (chancery court) devoted solely to business entities.
Let's face it; some states are simply friendlier to business than others. Generally, you should incorporate in your home state. If you're not sure, consult with your attorney or CPA. They will be able to tell you if there is an advantage to you forming in a state such as Nevada.
Now depending on what entity formation service you choose each one will have various types of packages you can choose from. Basic entity formation services can be as low as $49 but don't let that fool you because you will incur additional fees such as your state filing fee, registered agent service, etc.
Not sure which is the best business structure for your company?
Check out this FREE Business Structure Wizard for assistance.


Once you select the right structure the next step is incorporating online with an entity formation service. I personally recommend CorpNet® Incorporation Services but it's truly up to you.
Let's break this down:
Entity Formation Fee – this is the fee charged by the entity formation company to do all the work in forming your business entity. Many companies have a standard fee with optional upgraded services such as obtaining your Business Tax Identification Number (EIN), resident agent service, corporate kits, etc.
State Filing Fee – this fee is what you need to pay the state you are incorporating in for the entity type you've chosen. This fee varies for every state and the type of entity structure you select. For example, in California there is a $70 State Filing Fee if you select a Limited Liability Company.
Processing & Shipping – this fee is based on how fast you want your documents filed and sent to you. Some entity formation services offer standard, express or rush delivery. Fees can be as much as $150 for 24 hour processing and 2-3 day delivery to your door.
Additional services you may want to consider:
Business Tax Identification Number (Federal Tax Identification Number) (IRS Form SS-4) – rather than obtain your company's Federal Tax ID on your own, you have the option to pay the entity formation company a small fee to handle this for you. I prefer this option myself simply because it's a matter of convenience.
Registered Agent Service – this is a great way to add an extra layer of privacy. A registered agent is a person or company that is officially recognized by the state that resides within the state of incorporation and is designated by the corporation/LLC to accept service of process on behalf of the entity. Since a Post Office Box or other "mail service" is usually not sufficient to qualify as a registered agent, this service comes very helpful for home based businesses or others seeking privacy.
So you can literally Incorporate or Form an LLC in minutes. Now keep in mind, while you may see entity formation services advertising a very low price for incorporating online, there are other fees that you will incur. These hard costs such as a state filing fee are simply part of the process and cannot be avoided.
Typically you should expect to spend $150-$300 for the basic packages which would include your state filing fee, registered agent service for 1 year, and receiving a Federal Tax ID.
Ready to start building business credit for your newly formed corporation or LLC? Become a member of my Business Credit Insiders Circle and gain access to a proven step-by-step business credit building system. A system that provides you access to vendor lines of credit, fleet cards, business credit cards with and without a PG, funding sources and lenders that report to all the major business credit bureaus. Submit your name and email below for details and receive a free business credit building audio seminar ($597 value) =>

To Your Success In Business and in Life!
Did This Blog Help You? If so, I would greatly appreciate if you like and shared this on Facebook.
About the author
Marco Carbajo is a business credit expert, author, speaker, and founder of the Business Credit Insiders Circle. He is a business credit blogger for Dun and Bradstreet Credibility Corp, the SBA.gov Community, and All Business.com. His articles and blog; Business Credit Blogger.com, have been featured in 'Fox Small Business','American Express Small Business', 'Business Week', 'The Washington Post', 'The San Francisco Tribune','Alltop', and 'Entrepreneur Connect'. You can also find Marco on Google+.
Image courtesy of FreeDigitalPhotos.net