Cash for Outstanding Invoices
Are you tired of waiting 30, 60 or 90 days for your invoices to get paid?
What would it mean for your business if you could clear invoices at the push of a button to keep your cash flow steady?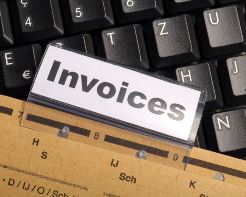 Now I'm not talking about factoring which is selling your accounts receivables to a third party at a discount. In today's post we are going to cover the easiest and most effective solution to getting advanced payments for outstanding invoices without factoring.
According to Dun & Bradstreet 90% of small business failures are due to cash flow problems with 60% of those being profitable at the time; they just ran out of cash. The fact is 64% of small businesses have invoices that had gone unpaid for at least 60 days.
If you are experiencing this challenge you're not alone. Even big brands are the worst offenders. Wal-Mart takes on average 86 days to pay an invoice and McDonalds takes 64 days.

Without enough cash on hand, you may not be able to make payroll, pay rent on time, purchase inventory, or pay for other expenses such as a business credit card payment. Now I'm sure you're familiar with traditional lending options such as a business lines of credit, factoring, and a bank loan but let me introduce you to a company called Fundbox.
Fundbox is by far the easiest and fastest way for a business to get an advance on outstanding invoices and it's all done right online. Here are some bullet points:
No credit check
It's easy & free to sign up
No paperwork
Clear and transparent pricing, only pay for what you use
Pick only the invoices you want to clear
Use the funds for whatever you need (payroll, rent, inventory, etc.)
Here's how it works:
Create a FREE Account in seconds – Simply enter your email, choose a password, and select the bookkeeping app that you currently use and you're done.
Fundbox works with the following platforms:

Once you sign up for a free account, the Fundbox dashboard enables you to manage your funding. The dashboard shows you the due date and funding price for each of your outstanding invoices, so you can decide which invoices you want to clear and get paid for.
Select the outstanding invoices to clear – Click on any of your outstanding invoices to get the full amount transferred to your bank account instantly and securely.
Get the cash you need when you need it – This solution ensures that you don't have to wait for your clients to pay.
Now keep in mind the clearing fee is set automatically based on the health of your business and the specific invoice you want to clear. They show you the exact fee in US dollars before you even enter your bank account details. For example, for a $1000 invoice the fee range is between $52 and $72 for three months.
For repayment, Fundbox gives you 12 weeks to repay the advance, plus a small fee. If you pay the advance before the 12-week period is up, they waive the remainder of the fee.
How is this different from factoring?
Fundbox is different from factoring because Fundbox advances cash for 100% of your invoice value whereas factoring companies advance cash for 80% – 90% of your invoice value.
Secondly, Fundbox DOES NOT purchase your invoices so your customers are never a part of the loop. You don't have to bother with sending checks to a new bank account and they never contact your customers.
With factoring companies, they actually purchase your invoices and collect from your customers. Michael Napolitano, a CPA at Citrin Cooperman & Company LLP in Springfield, N.J. says "The customers are no longer paying you; they're paying the factoring company".
Once a factoring company collects from your customers, the factor pays you the reserve balances of the invoices, minus a fee for assuming the collection risk. With Fundbox you don't have any of the headaches or loss of control compared to factoring.
CLICK HERE to Download Fundbox FAQ
So there you have it, Fundbox is a simple and effective way to fix your cash flow challenges due to outstanding invoices without selling your invoices to a factoring company and giving up control over your receivables.
Looking to get business credit for your company? Become a member of my Business Credit Insiders Circle and gain access to a proven step-by-step business credit building system. A system that provides you access to vendor lines of credit, fleet cards, business credit cards with and without a PG, funding sources and lenders that report to all the major business credit bureaus. Submit your name and email below for details and receive a free business credit building audio seminar ($597 value) =>

To Your Success In Business and in Life!
Did This Blog Help You? If so, I would greatly appreciate if you like and shared this on Facebook and Twitter.
About the author
Marco Carbajo is a business credit expert, author, speaker, and founder of the Business Credit Insiders Circle. He is a business credit blogger for Dun and Bradstreet Credibility Corp, the SBA.gov Community, Business.com, About.com and All Business.com. His articles and blog; Business Credit Blogger.com,  have been featured in 'Fox Small Business','American Express Small Business', 'Business Week', 'The Washington Post', 'The New York Times', 'The San Francisco Tribune','Alltop', and 'Entrepreneur Connect'.