Small Business Credit Cards for Bad Credit
Looking for a business credit card but can't get approved because of bad personal credit?
Are you having a tough time rebuilding or repairing your company's credit history?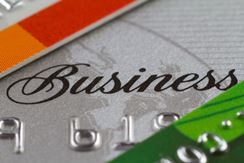 The good news is this post will provide you the answer to these two very important questions. First of all, if you have low FICO® Scores you've probably heard me mention using a business credit partner to obtain unsecured business credit lines. However, not everyone can secure a credit partner so what other options are there?
Secondly, if you have several blemishes on your company's business credit report there are several steps you can take to repair your business credit. But what can you do to rebuild a positive payment history for your business?

One fast, easy and convenient option that solves both of these challenges is a secured business credit card. Obtaining a secured business credit card may be an ideal solution because it enables you – a small business owner – to either build up credit for your new business, or re-build credit for your established business even if you have bad personal credit.
For the longest time secured business credit cards have been virtually non-existent for small business owners. While the majority of credit cards for businesses are unsecured and require the business owner to have stellar credit ratings, several major banks have stepped up to help new businesses establish and/or rebuild their business credit by offering secured business cards.
What's great about this is a secured business credit card works like any credit card and can be used anywhere Visa® or MasterCard® credit cards are accepted.  You can make company travel reservations, purchase office supplies, and make online payments using the card.
How it works is you provide $500 or more to fund your business secured credit card. Your credit line will directly reflect the amount of your deposit. As with any credit card, you'll need to make monthly payments toward any balance you accumulate. Fortunately with some banks such as Wells Fargo you do not need an existing banking relationship in order to apply.
However, with some banks such as BBVA Compass you will need to open a secured credit card savings account and deposit $500 before applying for its secured business credit card. Once you make the deposit your available credit will be 90% of your savings account balance.
Now you can always increase your credit limit with any secured business card by adding funds to your account. Ideally you should try to obtain a credit limit that is representative of your ability to make large monthly payments. Remember, a secured business credit card is not only a convenient way to pay for business expenses and a smart alternative to cash or checks; it's a stepping stone to obtaining an unsecured business credit card.
Here are the best small business credit cards for bad credit risks:
Best Small Business Secured Credit Cards
Wells Fargo Business Secured Credit Card
BBVA Compass Business Secured Visa® Credit Card
Metro Visa® Secured Business Card
Once you obtain a card for your company the key is to pay your bill on time every month and keep your credit utilization below 50%. In order to build a creditworthy business it's essential for your payment history to reflect that your company pays on time and is able to manage its debt responsibly.
Now before you apply for a secured business credit card you'll need to have the following information ready:
Business Information
Company Name
Company address
Business phone number
Business fax number
Employer Identification Number (EIN)
Type of industry
Business start date
Annual revenue
Business checking/savings account details
Business Owner Information
Home address
Home phone number
Social Security Number
Yearly household income
Personal checking/savings account details
So if you think bad credit will hold you back from getting a business credit card, think again. Whether you need to establish, rebuild or repair your company's credit history consider one of the best small business credit cards for bad credit risks. It may be just the stepping stone you need to start your company on the path to creditworthiness.
*Do you have bad credit but strong company revenues? Consider a revenue based loan.
Looking to build your business credit? Become a member of my Business Credit Insiders Circle and gain access to a proven step-by-step business credit building system. A system that provides you access to vendor lines of credit, fleet cards, business credit cards with and without a PG, funding sources and lenders that report to all the major business credit bureaus. Submit your name and email below for details and receive a free business credit building audio seminar ($597 value) =>

To Your Success In Business and in Life!
Did This Blog Help You? If so, I would greatly appreciate if you like and shared this on Facebook and Twitter.
About the author
Marco Carbajo is a business credit expert, author, speaker, and founder of the Business Credit Insiders Circle. He is a business credit blogger for Dun and Bradstreet Credibility Corp, the SBA.gov Community, About.com and All Business.com. His articles and blog; Business Credit Blogger.com,  have been featured in 'Fox Small Business','American Express Small Business', 'Business Week', 'The Washington Post', 'The New York Times', 'The San Francisco Tribune','Alltop', and 'Entrepreneur Connect'.