Revenue Based Financing
Does your business need capital? Are you looking for a true business loan based on your company's cash flow? Then you've come to the right place.
Let's face it many of the business loans you see advertised on the internet are really just merchant cash advances which are based on your company's monthly credit card sales.
What I'm going to share with you in this post is how to get an actual business loan through revenue based financing not a merchant cash advance. Typically when you think of applying for a business loan the first place that comes to mind is your own bank right? However, when it comes to qualifying one of the main factors that prevents one from getting approved is low personal credit scores. Low credit scores can hurt one's chances of getting the funding needed even if the business itself has steady and consistent monthly cash flow.
So what is the solution?
It's known as revenue based financing and it is the ideal solution for the un-bankable business owner. The beauty of this program is it's quick to fund (in as little as 7-10 days) and great for businesses that can't qualify for bank funding because an owner has bad personal credit.
*New Update (2017) –  Check out the New Business Line of Credit based only on Bank Deposits
Revenue based financing is simply financing that is based on the revenues generated by the business. It's a short term loan (4-18 months) with rates slightly higher than traditional bank rates and requires no collateral whatsoever. What are the minimum requirements to qualify?
Business owner needs at least a 550 FICO® score
Minimum annual gross sales must be greater than $100k
At least five deposits per month in the business checking account
*If your business is less than a year old: the past three month's bank deposits will be reviewed. If you meet these minimum requirements then all that is needed for approval is to complete a simple application, along with 3 months recent bank statements and 3 months merchant statements.
*If a business does not accept credit cards, a previous year's tax return would be needed. So how much can a business owner get with revenue based financing? For loan amounts the minimum is $5,000 and the maximum is $1.5 million per legal entity.
Keep in mind the maximum loan amount will not exceed 10% of a company's annual gross sales. For example, if a business has $200,000 per year in annual gross sales than the most it may be able to obtain is $20,000 via revenue based financing. Once you obtain the loan, repayments are made in small increments every day via ACH from the business bank account except on Saturdays, Sundays and Holidays.
This makes it much easier for a business rather than dealing with a large monthly payment. While there are various types of revenue based financing products (standard, premium, franchise, etc.) with terms ranging from as little as 4 months to as long as 18 months, here is an example of a standard deal.
Standard 6 Month Revenue Based Financing Deal $10,000 (loan amount) X 1.24 (loan rate) = $12,400 Repayment over 129 days (6 months) = $96.12 per day Monday thru Friday only What are the most popular industries for revenue based financing?
Hot Revenue Based Financing Industries
(click image to enlarge)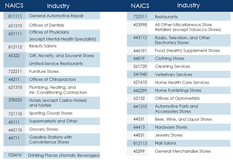 If you decide to move forward it's important to be aware that there are restrictions. Some businesses do not qualify for this type of funding so before you fill out the contact form below please review the following:
Revenue Based Financing Restriction List
(click image to enlarge)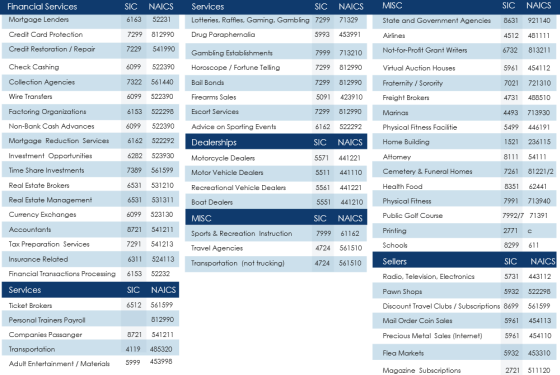 Read to apply for a revenue based loan? Submit your information below and a funding specialist will contact you within 24 hours. Plus receive my FREE business credit seminar audio and newsletter ($597 value)=>
To Your Success In Business and in Life! Did This Blog Help You? If so, I would greatly appreciate if you like and shared this on Facebook. About the author
Marco Carbajo is a business credit expert, author, speaker, and founder of the Business Credit Insiders Circle. He is a business credit blogger for Dun and Bradstreet Credibility Corp, the SBA.gov Community, All Business.com, and About.com .His articles and blog; Business Credit Blogger.com, have been featured in 'American Express Small Business', 'Business Week', 'The Washington Post', 'The New York Times', 'The San Francisco Tribune','Alltop', and 'Entrepreneur Connect'. You can also find Marco on Google+. Image courtesy of FreeDigitalPhotos.net