Experian Business Credit Report
Have you checked your Experian Business Credit Report lately?
Does your company's report have depth, diversity and density?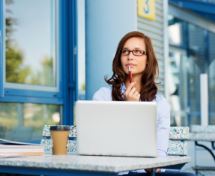 Did you know banks, credit card issuers, suppliers and lenders use Experian Business to prescreen and identify companies to solicit credit offers to?
In the previous post we talked about deciphering your Equifax Small Business Credit Report, in today's post let's dive into Experian Business.

Before we get started it's crucial that you understand the necessity of building a business credit file with all three major business credit agencies. Having a solid report across all three agencies enables your business to be what is known as 'credit ready'. So no matter where your company applies for additional funding; a bank, lender or supplier can easily assess your company's creditworthiness regardless of which business credit reporting agency they pull from.
Now it's important to realize that Experian's Business database is entirely third party built, which means you as a business owner are unable to self-report or add your own trade references to your file manually whereas with Dun & Bradstreet Credibility Corp trade reference builder you can.
The information Experian Business uses to create your company's record comes from sources such as trade suppliers, UCC filings, business registrations, etc.
Experian Business' database consists of four main groups of data on 27 million+ active business records with over 102 million tradelines and 140 million lines of credit data.  All together the database contains a total of 700 data elements with the 'trade' group containing 400 of the 700 elements alone.
Here is a breakdown of the four main groups of data:
1) Firmographics (demographics of a business)
Business information
Length of time on Experian's file
Number of inquiries in last 6 months
Number of employees
2) Public Records
Liens
Judgments
UCC Filings
Bankruptcy
Who is Experian Business?
3) Scoring
Intelliscore Plus℠
Key score factors
4) Trade
Number of trades
Percentage of trades by aging categories
Categories of trade
Collection data
It's important to realize that creditors, suppliers, banks, credit card issuers and businesses use Experian's Business database to prescreen and identify potential businesses for the products they offer. Whether it's a pre-approved offer for a line of credit, business credit card or other financial product; the strength of your Experian Business Credit Report can provide you with new financing opportunities that your business may have not been previously exposed to.
Prescreened offers are based on information in a company's report that indicates the company meets criteria set by the creditor or supplier. Usually, preapproved solicitations come via mail, but sometimes a phone call or an email is used as well.
Does prescreening hurt your business credit report?
No. The inquiries on your business credit report show which companies obtained your information for prescreening, but those types of inquiries will not have a negative impact on your company's report.
So how do you know if your company is listed with Experian Business?
All you need to do is conduct a search on Smart Business Reports to locate your business listing. If your company is listed it will show up on the search results and you can order a report to review what's listed on your file.  Ideally, you want a minimum of 8-10 tradelines reporting on your Experian Business Credit Report with the proper mix of credit diversity.
If your company does not show up in the search results than you don't have a report established with Experian Business. If this is the case, the next step for you is to start acquiring credit from creditors, suppliers and credit card issuers that report to Experian Business. To save you a great deal of time, you can find Experian Business reporters in our Business Credit Building System.
As a business owner, it's essential that you have a well-established business credit report with Experian Business. This enables creditors to assess the creditworthiness of your company when applying for credit plus the opportunity to receive pre-approved credit offers.
Ready to start building your Experian Business Credit Report? Become a member of my Business Credit Insiders Circle and gain access to a proven step-by-step business credit building system. A system that provides you access to vendor lines of credit, fleet cards, business credit cards with and without a PG, funding sources and lenders that report to all the major business credit bureaus. Submit your name and email below for details and receive a free business credit building audio seminar ($597 value) =>

To Your Success In Business and in Life!
Did This Blog Help You? If so, I would greatly appreciate if you like and shared this on Facebook and Twitter.
About the author
Marco Carbajo is a business credit expert, author, speaker, and founder of the Business Credit Insiders Circle. He is a business credit blogger for Dun and Bradstreet Credibility Corp, the SBA.gov Community, About.com and All Business.com. His articles and blog; Business Credit Blogger.com,  have been featured in 'Fox Small Business','American Express Small Business', 'Business Week', 'The Washington Post', 'The New York Times', 'The San Francisco Tribune','Alltop', and 'Entrepreneur Connect'.