Equifax® Small Business Credit Report
Did you know Equifax® generates 158 billion credit score updates on a monthly basis and 60,000 updates per second for consumers?
While we already know that Equifax® is a major consumer reporting agency but did you know they are also a major player in the business credit reporting industry as well?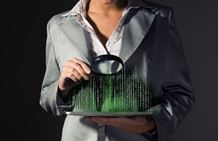 Equifax® Business has more than 80 million businesses in its database worldwide offering wide coverage and in depth information on small businesses like yours. From detailed credit history to business owner and corporate linkage, it offers a full suite of solutions for lenders, banks, and suppliers to make informed credit decisions.

As a business owner, it's crucial for your business to establish a comprehensive business credit profile with this agency. In fact, a large percentage of banks and lending institutions pull business credit reports from Equifax® Business.
So what happens if your business is not listed with Equifax® Business?
If a lender is trying to pull an Equifax Small Business Credit Report on your company and there is no profile listing then there is no way for the lender to make a sound risk decision based on business credit data. This will result in either a denial of credit or the lender requesting additional information such as financials, references, a personal credit report, collateral, etc. in order make the proper risk assessment.
Depending on which type of business credit report a lender pulls, the following types of information is what may be disclosed:
1) Business demographics – data such as business name, address, phone, tax identification number, entity type, location type, # of employees, Business SIC/NAICS Code, parent companies, etc.
2) Trade accounts and payment history – this data includes several sections with over 26 key metrics. Each section provides details into account activity, performance and analysis
3) Public records, such as judgments, liens, UCC filings and bankruptcies – the detailed information in this section also returns business registration information obtained from Secretary of State Offices or other trusted sources
4) Financial credit experiences – the report also provides details on open and closed financial credit experiences such as business leases, commercial credit cards, letters of credit, lines of credit, open ended lines of credit and term loans
5) Corporate family trees – returns a list of businesses that are potentially associated with the business owner
6) Business owners and/or guarantors associated with the company – provides name, address, phone number and reported date for the business owner, principal or guarantor
While this information is simply a brief overview there is a great deal of information you need to decipher on your business credit report. To make the process as painless as possible here are two FREE training guides to interpreting your Equifax® Small Business Credit Reports:
Business Credit Industry Report™ 2.o Training Guide
Business Credit Industry Report™ 2.0 Plus Training Guide
Each of these training guides provides insight and clarity into the business credit reports supplied by Equifax® Business. Use these tools to help you better understand your profile and what steps you can take to improve your company's overall creditworthiness.
Ready to build your Equifax Small Business Credit Report? Become a member of my Business Credit Insiders Circle and gain access to a proven step-by-step business credit building system. A system that provides you access to vendor lines of credit, fleet cards, business credit cards with and without a PG, funding sources and lenders that report to all the major business credit bureaus. Submit your name and email below for details and receive a free business credit building audio seminar ($597 value) =>

To Your Success In Business and in Life!
Did This Blog Help You? If so, I would greatly appreciate if you like and shared this on Facebook and Twitter.
About the author
Marco Carbajo is a business credit expert, author, speaker, and founder of the Business Credit Insiders Circle. He is a business credit blogger for Dun and Bradstreet Credibility Corp, the SBA.gov Community, About.com and All Business.com. His articles and blog; Business Credit Blogger.com,  have been featured in 'Fox Small Business','American Express Small Business', 'Business Week', 'The Washington Post', 'The New York Times', 'The San Francisco Tribune','Alltop', and 'Entrepreneur Connect'.