Dun & Bradstreet Credibility Corp. CreditBuilder™
Does your business have existing trade references that don't show up on your business credit reports?
Not sure how the CreditBuilder™ program by Dun & Bradstreet Credibility Corp. works and if you should enroll?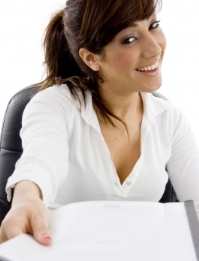 Well, you've come to the right place to get some answers.
If you don't mind I would like to get right to the point on which companies this program is best suited for.
In a nutshell, if a company has several existing relationships with suppliers/vendors where there is positive payment history than one may want to consider this program.
As you know, not all vendors/suppliers report to the business credit agencies so years of positive payment history that a business may have can go unnoticed.

That's the beauty of this program because it enables a business to leverage its existing trade references by adding it to the company's credit profile. No other business credit reporting agency offers the opportunity to do this.
Here's what you get with D&B Credibility Corp.'s CreditBuilder
™:
Receive your D-U-N-S® number and credit file in 5 days or less
Add up to 4 positive trade references to your business credit file
Get unlimited access to your D&B® credit scores and ratings
Receive alerts anytime someone checks your business credit report
What are the advantages?
With Dun & Bradstreet CreditBuilder™ your business can benefit the following ways:
It can help you reach the 4 trade experiences required to calculate a Paydex® score
Adding trade references may enhance your company's Paydex® score
Enhance the creditworthiness of your business by adding your company's existing supplier relationships to your company's credit reports
May improve your Financial Stress Score
May improve your Delinquency Predictor Score
May improve your Supplier Evaluation Risk Rating
May improve your company's credit limit recommendation
What are the disadvantages?
Not all trade references are accepted including the following:
A trade credit reference for which your company has not yet made payments to but are anticipating
Existing vendors that already report payment data to Dun & Bradstreet Credibility Corp.
Any trade reference that have shared principles or some other kind of legal ownership relationship with your business
Bank references
Utilities and gas companies
Credit card companies
Landlords
International companies
It's important to note that not all companies respond to Dun & Bradstreet Credibility Corp's. request for information. After you submit a trade reference they will make a total of six attempts to contact the reference. The good news is you can always resubmit references anytime and Dun & Bradstreet Credibility Corp. will start the process again.
So what if you don't have trade references or trade references Dun & Bradstreet Credibility Corp. will accept?
The good news is with our Step by Step Business Credit Building System we provides you access to our complete database of vendors, suppliers, creditors, credit card issuers and fleet cards that report to Dun & Bradstreet Credibility Corp., Small Business Equifax or Corporate Experian.
This takes all the guesswork out of determining which companies will actually report your company's positive payment activity to the business credit agencies such as Dun & Bradstreet Credibility Corp.
So if you have existing trade references that are acceptable; D&B Credibility Corp.'s CreditBuilder™
can provide a fast start to creating your company's business credit profile and generating a Paydex® score.
Just remember, the key to building a creditworthy business requires that your business is listed with all three major business credit agencies and has a profile that shows a diversity of credit, positive payment history, payment activity, proper debt to credit utilization, and strong credit capacity.
Ready to start building your business credit profiles? Become a member of my Business Credit Insiders Circle and gain access to a proven step-by-step business credit building system. A system that provides you access to vendor lines of credit, fleet cards, business credit cards with and without a PG, funding sources and lenders that report to all the major business credit bureaus. Submit your name and email below for details and receive a free business credit building audio seminar ($597 value) =>

To Your Success In Business and in Life!
Did This Blog Help You? If so, I would greatly appreciate if you like and shared this on Facebook.
About the author
Marco Carbajo is a business credit expert, author, speaker, and founder of the Business Credit Insiders Circle. He is a business credit blogger for Dun and Bradstreet Credibility Corp., the SBA.gov Community, About.com and All Business.com. His articles and blog; Business Credit Blogger.com, have been featured in 'Fox Small Business','American Express Small Business', 'Business Week', 'The Washington Post', 'The New York Times', 'The San Francisco Tribune','Alltop', and 'Entrepreneur Connect'.
Image courtesy of FreeDigitalPhotos.net