Small Business Loans with Bad Credit
For many small business owners, the idea of having to get a loan to either start a new venture or keep afloat a present one can bring anxiety.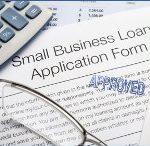 What if my credit score is too low to secure a loan? What if I don't get the loan and can't pay my business expenses? What if all I have worked for or dreamed of over the years is about to go up in smoke?
While there are loans to be had, it takes a good credit report to reel them in.

According to the Small Business Administration (SBA), the top five small business loan providers in 2010 were Wells Fargo, Live Oak Bancshares Inc., JPMorgan Chase & Co., U.S. Bank, and Compass Bancshares.
In the event you find yourself in the position of needing a small business loan with bad credit, there are steps you can take to improve the odds of getting that much needed funding.
Among them are:
Make sure you separate personal credit from business credit – The reasoning here is that many smaller lenders will look to combined business and personal credit scores. If you have a credit score of 650 or less, the odds of getting a business loan severely decrease. You may want to look for ways to rebuild your bad credit. When this happens, your business credit score will be the key factor. Once you have received a tax ID number, along with a legal entity for your company, you can start to build your business credit;
Have a solid business plan in place – If you need a business loan, you need a plan to go about getting it. You also need a plan in place for your business. Lenders will want to know things like what the loan is for, how you intend to use the money and over what period of time, how you will go about paying back the loan, what your strategy is for running your business, and what your contingency plans are should things go south;
Take the time to search – Your time and effort are important when looking for small business loans with bad credit. Don't settle for the first loan offer that comes your way, along with not settling if you are initially turned down. Be sure to do your homework, use the Internet as a main part of your loan search, and get referrals if possible from other small business owners on those they borrowed from. This can be especially important given you will want to know a number of factors about your potential loan provider, including: Their background and financial stability, customer service record, and if they have been involved in any lawsuits;
Look to family and friends – While some small business owners may be hesitant to look close to home for their loan needs, they oftentimes have a better chance of securing the necessary money by doing so. In many cases, getting a loan from a relative or P2P loan and giving them investment options is easier to do than going through all the paperwork with a bank or other lending institution. If you choose this route, however, make sure that you can pay the money back or will be able to satisfactorily provide those close to you with investment opportunities. Nothing can spoil a close relationship more than a dispute over money. Just as you would with a lending institution, make sure any loan arrangements with family and/or friends are clearly spelled out in a contract.
Remember, banks are in business to make money, so they have an incentive to loan you the money.
That means having a business plan, a good reasoning why your credit score is what it is, and a means to pay back your loan sooner than later.
Looking to build your business credit? Become a member of my Business Credit Insiders Circle and gain access to a proven step-by-step business credit building system. A system that provides you access to vendor lines of credit, fleet cards, business credit cards with and without a PG, funding sources and lenders that report to all the major business credit bureaus. Submit your name and email below for details and receive a free audio seminar ($597 value) =>

About our guest post author
Dave Thomas, who covers among other items business proposals, writes extensively for Business.com, an online resource destination for businesses of all sizes to research, find, and compare the products and services they need to run their businesses.