Business Debit Card
Opening a small business bank account is a vital part of running a business. I'm sure you're familiar with online banking and overdraft protection but let's cover the key advantages of the business debit card also known as the business check card.
While checkbooks will always play a part in your business the faster and more convenient way to make company purchases, track expenses, and manage finances is with a business debit card.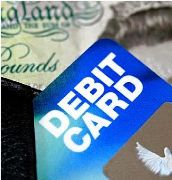 This card works like your business checkbook and each time you use the card to make a purchase the amount of the purchase is deducted right from your account. Basically the limit on your business debit card is the amount of funds you currently have available in your business checking account.
Now keep in mind some banks will provide overdraft protection and may even offer an unsecured business credit card that you can link to your account. This comes especially handy when you may not have enough funds to cover a debit card purchase.
For example, let's suppose you have a $500 balance in your small business bank account and have an unsecured business credit card linked to that same account with a $1,000 limit.
You go to the store and purchase a computer for $900 using your business debit card. Since you only have $500 in your account the unsecured credit card picks up the difference of $400 by tapping into the $1,000 limit you have available therefore allowing the transaction to go through.
Another advantage that comes with a business check card is convenience. Each bank that offers a business debit card will either carry the Visa or MasterCard logo allowing you to use your card anywhere Visa or MasterCard is accepted which is pretty much everywhere.
This again comes in handy if you travel because you don't have the hassle of getting out-of-town checks cashed. You also don't have to deal with providing two pieces of identification or waiting for check approval.
Maintaining good records is another major plus that comes from using a small business debit card. When you use the card each and every transaction appears on your statement so you can easily track your business expenses which make it a lot easier on your bookkeeper too!
Finally, a business debit card also has all the advantages of an ATM card so you can make cash withdrawals at thousands of locations. When you apply for your debit card the bank will issue a personal identification number (PIN) to help protect the account and prevent unauthorized use.
Even though using a business check card does not build your business credit files it does play a key role in your bank credit and banking history. So use your debit card responsibly and avoid mismanaging your account at all costs.
Ready to start building bank credit and business credit? Become a member of my Business Credit Insiders Circle and gain access to a proven step-by-step business credit building system. A system that provides you access to premium vendors, business credit cards, funding sources and lenders that report to all the major business credit bureaus. Submit your name and email below for details and receive a free audio seminar ($597 value) =>

About the author
Marco Carbajo is a business credit expert, author, speaker, and founder of the Business Credit Insiders Circle. A business credit building program helping business owners establish business credit. He is a business credit blogger for AllBusiness.com, a subsidiary of Dun and Bradstreet and author of "Eight Steps to Ultimate Business Credit" and "How to Build Business Credit with No Personal Guarantee." His articles and blogs have also been featured in American Express Small Business, Business Week, The Washington Post, The San Francisco Tribune, Scotsman Guide, Alltop, Entrepreneur Connect, and Active Rain.