Business Credit
Business Credit is borrowed money that your company can use to purchase products or services it needs and repay the funds at an agreed upon date or time frame.  It can also refer to the amount of capital your business can secure without the use of personal assets.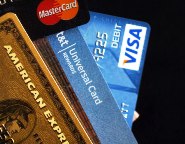 The good news for you is that businesses of all sizes and entity types have the ability to create its own corporate credit identity completely separate from that of its owners.
Unfortunately most entrepreneurs are not aware of this and operate as a sole proprietorship which is a form of business structure in which the individual takes on all aspects of funding, starting and operating the business.
As a sole proprietor you keep all the net profits but you're also taxed on them too. This is why entrepreneurs often rely on the strength of their personal credit reports to determine the amount of financing they are able to obtain for their business.
Unless you incorporate the IRS will automatically default your business as a sole proprietorship leaving you personally liable for all debts and actions made by the company.
By incorporating your business it now gets to be treated as a separate legal entity like a human being created through a legal process.
Similar to a social security number which is tied to your consumer credit files your business can obtain a Federal Tax Identification Number and establish its own business credit report.
Once you begin building business credit you can obtain everything from equipment, office furniture, supplies, and inventory or even lease automobiles through corporate fleet programs.
You should limit the use of your personal credit or guarantee by applying for vendor credit and if you apply for other sources of financing like a business line of credit then you will also need to maintain a solid bank rating too.
Business credit cards are another source of credit that your company can obtain with each card containing its own approval criteria and terms and conditions. Some cards may not be a good fit especially the ones who base its approval and payment reporting on the owner's personal credit and not the business.
Your company can also apply for business loans which are either secured or unsecured and are traditionally funded by banks.
Each of these sources of business credit can provide the short or long term capital your business needs while protecting your personal credit and personal liability.
While it does take time to build a creditworthy company you can expect to save more money and obtain much greater financing than you would ever personally.
Are you ready to start building business credit for your company? Become a member of my Business Credit Insiders Circle and gain access to a proven step-by-step business credit building system? A system that provides you access to premium vendors, business credit cards, funding sources and lenders that report to all the major business credit bureaus. Submit your name and email below for details and receive a free audio seminar ($597 value) =>

About the Author
Marco Carbajo is a business credit expert, author, speaker, and founder of the Business Credit Insiders Circle. A business credit building system for small business owners. He is a weekly columnist for Dun & Bradstreet Small Business Solutions, a business credit blogger for All Business & American Express Small Business and author of "Eight Steps to Ultimate Business Credit" and "How to Build Business Credit with No Personal Guarantee." His articles and blogs have also been featured in Business Week, The Washington Post, The San Francisco Tribune, Scotsman Guide, Alltop, Entrepreneur Connect, and Active Rain.