Applying for Business Credit Cards with an EIN
Do you plan on applying for business credit cards with an EIN?
In today's post we're going to go over the top ten factors that impact the approval process and size of credit limits you can acquire with our business credit card funding program.
This particular program requires that your company have an employer identification number issued, also known as an EIN. Although the banks require a personal guarantor; at the credit reporting level, none of the activity or cards issued under this program report to your personal credit reports.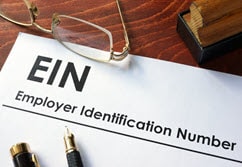 Basically, you are leveraging the strength of your personal credit so the company can acquire its own business credit cards under its EIN. Think of it as co-signing for your business without it impacting your personal credit reports.
Once the cards are issued to your company under its EIN, the bank card issuers will report your card activity to business credit reporting agencies such as Experian Commercial and/or Equifax Small Business.
Remember, the 'dividing line' between business and personal credit cards must be established at the credit reporting level in order to legitimize true business and personal credit separation.

Although there are over 500 business credit cards in the marketplace less than 100 report to the business credit reporting agencies. Be sure to check out our recent post on Business Credit Cards vs Corporate Credit Cards.
First, before you apply for business credit cards with our program, your business must be established as a separate legal entity such as an LLC.  Your company's employer identification number (EIN) is what the business credit reporting agencies use to open your business credit file and create a report.
If your goal is to create a clear separation between your personal credit and business credit than it's crucial to acquire business credit cards that accomplish just that.
This not only helps you establish a business credit profile and rating for your business but also protects your personal credit. Remember, when applying for business credit card funding the two main areas reviewed are; personal credit worthiness and the age of the business.
It's important to realize there is no collateral, no income docs, no financials, no tax returns and no time in business required to qualify for business credit cards. The requirements are much easier compared to traditional funding offered by banks.
Here are the Top 10 Factors when Applying for Business Credit Card funding:
1) Personal Credit Scores – The first benchmark factor for qualification is a minimum credit score of 680. FICO® credit scores and FICO® Bankcard score is the most widely used scores by credit card issuers. Keep in mind this is simply a minimum requirement.
There are many other credit scores you can get for free from sites such as CreditKarma, Credit Sesame & CreditWise but keep in mind these are Vantage Scores not FICO® Scores. We recommend using http://creditreportengine.com where it only costs $1 to review your report and FICO® score.
2) Overall Credit Report – The second major factor is the credit report of the personal guarantor. Underwriters look at the length of credit history, types of accounts, number of active accounts, payment history, hard inquiries, etc.
Length of credit history (Limited = less than 2 yrs.)
Types of accounts (mortgage, installment, revolving, etc.)
Number of active accounts (ideal 12+ active)
Payment history
Recently opened accounts
Unpaid collections (must be paid)
Hard inquiries (ideal less than 2 past 12 months)
Now keep in mind if the credit history is less than 2 years than it may be too thin of a credit file. That doesn't mean you won't get a funding projection since we offer personal funding as well.
3) Credit Card Accounts – The next important factor looked at is the existing personal credit card accounts of the guarantor. The bank card issuers use that data as a way to assess how an applicant will most likely manage a business credit card.
The following are some key areas we need to cover:
Primary only (AUs do not play a factor) – Adding authorized user accounts does help boost your scores but does not play a factor since underwriters look at primary accounts not authorized user accounts.
Credit Limits ($2500 min) – Have at least one active credit card with a $2500+ limit and at least 2 years of payment history if that's the only active card. The higher the card limits the better since it shows you can manage credit responsibly.
Card Issuer (Capital One, Amex, Discover, etc.) – Having credit cards issued by major card issuers is much more favorable than having credit cards issued by high risk bank card issuers or online store cards.
Type of Card (Store, Co-Branded, Credit Card, Charge)
Age of the account
Credit card utilization – There is individual and overall credit card utilization. It's recommended to have those ratios below 50% with 30% or lower being ideal. If after we conduct a free pre-qualification review there is an issue with your credit utilization, we will recommend the required pay downs prior to funding.
4) The Business – When it comes to the business itself, the following factors play an important role during the credit review process.
Age of the business (Ideal 2 years+) – Businesses under 2 years old are considered a startup and pose the most risk in the eyes of banks. If you recently incorporated your business it still can acquire funding just keep in mind that it does impact the funding projection.
Outstanding debt – Does your business have outstanding debts? Bank card issuers factor in debt during their risk assessment for the business. With little to no debt, a business poses less of a risk especially if its in the early stages of operation.
Business credit identity – While applying for business credit card funding is a fast way to start building your business credit reports; if your business already has an established credit identity than card issuers can also review your company's credit file.
Existing business credit card accounts – You may have existing personal relationships with banks that also issue business credit cards. A guarantor with an existing banking relationship is taken into consideration during a review.
Banking relationship – It's essential that your company have a business checking account with at least one bank prior to applying for business credit cards.
5) Out of State Business – Expect 33% less in funding if your business entity is formed in a state outside of the state the personal guarantor lives in.
6) Business Address – Expect 25% less in funding when the home address of the business is not the home address of the personal guarantor. For example, if your using a credit partner for funding but your business address is your personal home address.
7) 2nd Business Entity – Expect 25% less in funding when the personal guarantor has a 2nd business with debt, loans, etc.
8) Old Bankruptcy – Banks tend to issue 33% less funding when the personal guarantor for the business has an old BK likely over 10 years old. Even if the BK is not reporting on the credit file, a BK filing is still disclosed since the question is asked on the credit application.
9) Post Office Box – If you use a post office box whether for home and business, banks will initiate security verification protocols. Expect phone verification or other extra security measures as a result.
10) Security Freeze/Fraud Alerts – If you have any security freeze or fraud alerts, they must be removed prior to starting the business credit card funding process.
Now that we covered the top factors let's review the funding program.
Business Credit Card Funding Overview
Receive 4-5 Business Credit Cards issued under Company EIN
$25,000 to $150,000 in combined credit limits
0% Intro APR for 6-15 months (depending on bank)
Annual APR rates (9.9 -19.9%)
Minimum monthly payments from 1-1.5%
Ability to pull cash out (cash liquidation)
Reports only to business credit reporting agencies
Establishes business credit file (Experian Commercial)
Establishes 4-5 business accounts reporting on your business credit report
Established 4-5 banking relationships
Establishes a business credit score for the business
How to Start the Business Credit Card Pre-Qualification Process
Step 1: Order Your Credit Report & FICO® Score for $1 => http://creditreportengine.com
Step 2: Download Your Credit Report in PDF format
Step 3: CLICK HERE to Complete the Pre-Qualification Form and Upload Your Credit Report
*Pre-Qualification review takes 24/48 hours. You will be contacted via phone with business credit limit projections and next steps. Funding process takes 14-20 days
At the end of the day, applying for business credit cards with an EIN is an effective way to get access to working capital while building your business credit files quickly.
The fact is with good personal credit, you can leverage it to your advantage to get several business credit cards that only report to the business credit reporting agencies. This strategy puts you on the fast track to building up the creditworthiness of your business.
Looking to build your business credit? Become a member of my Business Credit Insiders Circle and gain access to a proven step-by-step business credit building system. A system that provides you access to vendor lines of credit, fleet cards, business credit cards with and without a PG, funding sources and lenders that report to all the major business credit bureaus. Submit your name and email below for details and receive a free business credit building audio seminar ($497 value) =>

To Your Success in Business and in Life!
Did This Blog Help You? If so, I would greatly appreciate if you like and shared this on Facebook and Twitter.
About the author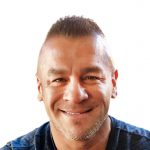 Marco Carbajo is a business credit expert, author, speaker, and founder of the Business Credit Insiders Circle. He is a business credit blogger for Dun and Bradstreet Credibility Corp, the SBA.gov Community, Business.com, About.com and All Business.com. His articles and blog; Business Credit Blogger.com, have been featured in 'Fox Small Business','American Express Small Business', 'Business Week', 'The Washington Post', 'The New York Times', 'The San Francisco Tribune','Alltop', and 'Entrepreneur Connect'.