How to Order a Tri Merge Credit Report
Did you know we can determine the amount of funding you qualify for with no hard inquiry?
We accomplish this by you submitting a tri merge credit report to us rather than us pulling it.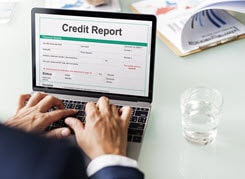 When you personally order a tri merge credit report for yourself it does not trigger a hard inquiry.
Hard inquiries also known as "hard pulls" happen when a bank or lender checks your credit to make a lending decision. This happens when you directly apply for a loan, credit card or other type of financing.
In a nutshell a hard inquiry occurs when you give permission to a lender or other entity to view your credit report. Some actions that trigger a hard inquiry that you may not be aware of are actions such as getting new cell phone service, asking for a credit limit increase or submitting a rental application.
When you order a tri-merge credit report from a site such as CreditReportEngine, there is no hard inquiry to your credit. At Experian, you can check all 3 credit scores and credit reports from Equifax, Transunion & Experian without affecting your credit scores.
Click to continue …