Advantages of Social Capital
I'm sure you're no stranger to what factors impact your company's fundability. In a previous post we talked about the 10 factors impacting your ability to get small business credit.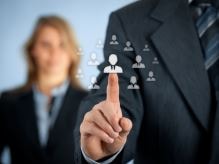 But did you know one of the new trends growing in the business funding space is using a business owner's 'digital footprint' as part of assessing fundability? When it comes to measuring "Social capital" several companies have even developed their own unique scoring models.
What is social capital?
It is the collective value of all your relationships and contacts via social networks, phone lists, SMS contacts and email databases. These data sources may be an invaluable asset to help run and grow your business successfully.

Did you know Fair Isaac Corp., which provides the FICO® score used in more than 90% of lenders decisions, says it is weighing possibilities for incorporating social media? Companies pioneering this concept of using social capital as a barometer of risk generally lend to borrowers with challenged credit.
One company known as Kabbage, uses a unique algorithm that looks at several dimensions of business data in real-time.  The amount of working capital you qualify for will be based on factors such as the strength of your social capital, average monthly revenue, seller rating, time in business, transaction volume and other feedback measurements.
Unlike traditional lenders, your business gets approved on the spot and it's based on your business's online services. No paperwork, faxing or waiting in line. Now before you get too excited there are two things to consider.
First, the loans for these types of programs are short, usually six-month terms. Secondly, the fees are much pricier compared to unsecured business credit lines. For example, Kabbage's monthly fees are 1.5% and may go as high as 12%. Every month, you pay back 1/6 of the total loan plus the monthly fee.
If you pay attention to building your social capital as you do your business creditworthiness, you'll find that it will multiply your company's credit capacity many times over.
What steps should you take to build your company's social capital?
Establish Your Social Profiles – Set up your company profile on major social networks such as LinkedIn, Facebook and Twitter and maintain regular activity in each of these platforms. Today, these networks are being used more and more by alternative lenders when assessing business data. The stronger the social presence and connections you have the more of an asset it becomes to your business.
Network Proactively – Make connections with industry professionals in your niche and expand your network. Make it easy for potential customers, existing clients, and experts in your field to connect with you on the major social networks by having social icons on your company website and blog. Share articles, videos and blogs on your social updates that are essential to your users or viewers. This not only helps promote your brand and generate sales for your business but it also helps improve your social capital.
It's important to note that lenders are also tapping into other sources of data, including PayPal and eBay accounts, to decide not just whether a business should get a loan but whether their credit limit should be increased.
As a business owner it's important to realize the activity and size of your networks via social networking sites such as Facebook, Twitter & LinkedIn now play a role in alternative lending programs. The fact is a strong social presence is an advantage to your company's overall funding potential.
Remember, social capital is built when you invest in relationships, by being as valuable as possible to the people you connect with. This connectivity is measured via social platforms and other business services by alternative lenders.
It is successful business owners that have the forward thinking mindset to take proactive steps such as building their social capital and business credit. Doing so will position your company for optimum growth and financial stability in the immediate and near future.
Financing trends clearly show that social capital will continue to grow as a contributing factor in assessing the creditworthiness of a business. "There could come a time where certain social media could be predictive and we're looking at that…" said Anthony Sprauve, senior consumer-credit specialist at FICO®.
Remember, the more data you can supply as a business, the better your chances of approval can be. Don't rely on the strength of personal credit alone; build your business credit profiles and social capital so you can maximize your company's fundability.
Ready to build your business credit? Become a member of my Business Credit Insiders Circle and gain access to a proven step-by-step business credit building system. A system that provides you access to vendor lines of credit, fleet cards, business credit cards with and without a PG, funding sources and lenders that report to all the major business credit bureaus. Submit your name and email below for details and receive a free business credit building audio seminar ($597 value) =>

To Your Success In Business and in Life!
Did This Blog Help You? If so, I would greatly appreciate if you like and shared this on Facebook and Twitter.
About the author
Marco Carbajo is a business credit expert, author, speaker, and founder of the Business Credit Insiders Circle. He is a business credit blogger for Dun and Bradstreet Credibility Corp, the SBA.gov Community, Business.com, About.com and All Business.com. His articles and blog; Business Credit Blogger.com,  have been featured in 'Fox Small Business','American Express Small Business', 'Business Week', 'The Washington Post', 'The New York Times', 'The San Francisco Tribune','Alltop', and 'Entrepreneur Connect'.