Business Credit Agency
Did you know there are other business credit reporting agencies other than the Big Three that may provide reports to lenders about your company?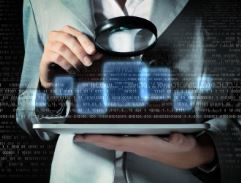 You may have heard me repeatedly talk about the three major business credit reporting agencies: Dun & Bradstreet, Experian Business, and Equifax Small Business. However,  not only are there other credit agencies, there are also specialty reporting agencies that focus on certain industries as well. In fact, there are over 900 credit reporting agencies in the U.S. alone.
In today's post we'll cover the business credit reporting agency known as PayNet® which was founded back in 1999 and is based in Skokie, Illinois. PayNet® maintains a proprietary database of small business loans, leases, and lines of credit.  This reporting agency supplies business credit reports and scores to banks and commercial finance institutions.

Its database has over 22 million contracts worth more than $1.2 trillion in loans and leases from leading U.S. lenders which is updated monthly. The reports and scoring models are used by lenders to make informed credit decisions on businesses applying for loans, credit lines or leases.
The predictive borrower factors in PayNet®'s database include:
Payment and delinquency history and patterns
History of serious delinquency
Number of years in business
Number of years of borrowing
Borrower practices
Paydown of borrowings
Size of amounts borrowed
Industry market segments
Here is an overview of PayNet®'s products & solutions:
PayNet Credit History Report (CHR) – This report provides a complete summary of all financial obligations for a given company. It breaks down how a business handles its obligations and shows the total amount owed and how much has been paid. Payment history on each account is listed and includes items such as collateral type, financing product, guarantor indicator, term and payment frequency, repayment status and levels of historical and current delinquency.
CLICK HERE to review a sample report
PayNet MasterScore®v2 – This score which ranges from 550-740 allows lenders to automate their credit decisions resulting in improved decisioning power. The PayNet MasterScore® v2 contains a total of 587 variables and 135 unique variables. It was built using over 3 million transactions and 135,000 defaults, which made it possible to build 29 scorecards in all, based on borrower industry, size, age, or some combination.
Construction & Transportation Score – For lenders that focus either on construction or on transportation lending/leasing, PayNet® offers a Construction Score and Transportation Score. Both of these scores are taken from PayNet®'s data-set of over 2 million equipment term-contracts.
So how do you obtain a copy of your PayNet® business credit report?
Unfortunately, you can't order your company's report directly from PayNet®. The only way to get a report is if you were denied credit from a member company using PayNet®.
If a member company of PayNet® pulls your report and denies your company credit, PayNet® will provide you a free copy of your company report only upon request.
If my company was turned down for a loan, how do you know if the lender used PayNet®?
By law, a lender must provide you with a notice with the specific reasons why you were turned down for credit. Look for the letter, and read it — it will also specify which credit agency they used. If the agency was PayNet® then you can contact PayNet® via email at [email protected] and provide the member name and date of rejection to receive a free copy of your report.
If an existing loan, line of credit or lease that your company has with a lender isn't listed on your PayNet® Credit History Report, it's most likely because that lender does not share its data nor is a member of PayNet®.
For the purpose of establishing business credit, we suggest you find companies, business credit card issuers and lenders that will issue credit in the name of your business and report your payment experience to business credit reporting agencies such as PayNet®.
Ready to start building business credit? Become a member of my Business Credit Insiders Circle and gain access to a proven step-by-step business credit building system. A system that provides you access to vendor lines of credit, fleet cards, business credit cards with and without a PG, funding sources and lenders that report to all the major business credit agencies. Submit your name and email below for details and receive a free business credit building audio seminar ($597 value) =>

To Your Success In Business and in Life!
Did This Blog Help You? If so, I would greatly appreciate if you like and shared this on Facebook and Twitter.
About the author
Marco Carbajo is a business credit expert, author, speaker, and founder of the Business Credit Insiders Circle. He is a business credit blogger for Dun and Bradstreet Credibility Corp, the SBA.gov Community, About.com and All Business.com. His articles and blog; Business Credit Blogger.com,  have been featured in 'Fox Small Business','American Express Small Business', 'Business Week', 'The Washington Post', 'The New York Times', 'The San Francisco Tribune','Alltop', and 'Entrepreneur Connect'.