Small Business Startup
So. You think you're ready to start a business.
You chose your business name. You got your business logo designed. Your business cards are at the printers.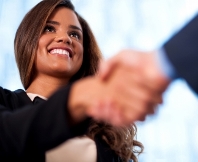 But you're not done. You also must ensure that your business has all of the essential ingredients it needs so it has a fighting chance to succeed.
Doing so will enable you to establish the proper business foundation so you can legitimize the operation and credibility of your business.
The ingredients listed below are essential for a small business startup and also play a key role in the business credit building process.

1) Choose an entity structure – pay careful consideration as to which type of structure you select but avoid a sole proprietorship at all costs. Whether you choose an LLC, S-Corporation, C-Corporation or Limited Partnership; knowing which structure is best for your income and tax situation is key for your business.
2) Obtain a Business Tax Identification Number – also known as a Federal Tax Identification Number or EIN; it's the corporate equivalent to a social security number but used for businesses.  This nine-digit number is assigned by the IRS to business entities operating in the U.S.
3) Choose a business address – a virtual business address or commercial location is ideal for small businesses. It's important to note that your physical business address and business mailing address may be two different locations.
4) Set up a business phone number – either a toll free number or local phone number is a reliable source for a company's communications. It's key to dedicate a phone number exclusively for business that can also be listed in major directories.
5) Establish a web presence – a company web site and social media presence is just as important today as having a business phone number or email address. The easier a customer or lender can verify and learn more about your business the better.
6) Open a business bank account – a bank account will be your most important tool for managing your company's finances. This will also allow you to completely separate your personal banking activities from your company's.
7) Obtain a merchant account – accepting credit cards from customers is an essential part of doing business today. From mobile credit card readers to virtual terminals; credit card processing for business is what is utilized to accept credit cards, get cash and make money as a company.
8) Get a business credit card – business credit cards have many benefits such as higher limits, perks & rewards, business credit reporting, and expense tracking. For real personal and business separation a business owner needs a credit card exclusively for business purchases.
9) Get a business debit card – a useful and convenient tool as opposed to writing business checks. Make sure you add overdraft protection to your small business bank account to avoid and potential overdrafts.
10) Plan a business funding strategy – many businesses fail due to lack of funding. Analyze your business credit and plan out a short term and long term funding strategy. Access to credit is crucial to your business as it may experience unforeseen expenses.
This checklist of essential elements is to help you structure your small business in a successful way. The last thing you need is to wonder whether your business has everything it needs to satisfy potential customers and/or lenders. Now with this list you can evaluate your startup at a glance and be sure it has every element it needs to operate as a real business.
Want more detailed information on any of these 10 essential ingredients?
Become a member of my Business Credit Insiders Circle and gain access to a proven step-by-step business credit building system. A system that provides you access to vendor lines of credit, fleet cards, business credit cards with and without a PG, funding sources and lenders that report to all the major business credit bureaus. Submit your name and email below for details and receive a free business credit building audio seminar ($597 value) =>

To Your Success In Business and in Life!
Did This Blog Help You? If so, I would greatly appreciate if you like and shared this on Facebook.
About the author
Marco Carbajo is a business credit expert, author, speaker, and founder of the Business Credit Insiders Circle. He is a business credit blogger for Dun and Bradstreet Credibility Corp, the SBA.gov Community, and All Business.com. His articles and blog; Business Credit Blogger.com, have been featured in 'Fox Small Business','American Express Small Business', 'Business Week', 'The Washington Post', 'The San Francisco Tribune','Alltop', and 'Entrepreneur Connect'.
Image courtesy of FreeDigitalPhotos.net