Best Business Credit Card For Business
Are you looking for a business credit card?
Not sure how to determine or where to find the very best business credit card for business?
The good news is your search is finally over. In this post I'm going to share with you the
three most important factors that you should look for in a business credit card.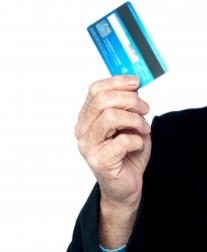 But don't worry I won't leave you wondering where to find a card that meets these criteria. I will show you how to qualify and where to apply!
Let's face it there's no shortage of credit cards for business owners being advertised all over the internet.
Unfortunately, the majority of those cards do not meet some of the most critical benefits that a business owner needs.
The best business credit card for business should do the following:

Protect Personal Credit – The majority of business credit cards report the businesses' payment history and revolving debt to the business owner's consumer credit reports.
The best business credit card should only report to the business credit reporting agencies such as Dun and Bradstreet or Corporate Experian.
This not only protects the business owner's personal credit ratings (FICO® Scores) but also enables the business itself to establish its own credit profiles and creditworthiness.

Provide High Credit Limits – A start up or successful growing business requires access to large amounts of credit for unforeseen expenses, expansion costs, equipment purchases, etc.
The best business credit card for business has high credit limits to meet the demand for credit when it is needed. High limit business credit cards can also position a business for even greater financing opportunities in the future.
Business credit reporting agencies such as Dun and Bradstreet use the size of a company's existing credit limits as one of its determining factors when making credit limit recommendations to other businesses or lenders.
Offer Low Interest Rates – When it comes to carrying revolving business credit card debt the less money a business has to pay in interest the better.
The typical rates on some of the popular business credit cards can go from 13%-15% APR. The best business credit card for business owners has lower rates of 9%-12% with 0% APR for the first 4-12 months.
The reality is many business credit card issuers fall way short of meeting these criteria with too much attention being paid to perks, rewards, and bonus miles, etc.
How to Qualify for the Best Business Credit Card
Must have 680+ FICO® Scores
Revolving debt to credit utilization below 50%
No derogatory entries within the past 6 months
No personal bankruptcies
If you're FICO® Scores are below the minimum requirement then take advantage of my '7 Steps to Superior Credit Course' to improve your scores.
Read to apply for the best business credit cards that build your business credit? Submit your information below and a funding specialist will contact you within 24 hours. Plus receive my FREE business credit seminar audio and newsletter ($597 value)=>
To Your Success In Business and in Life!
Did This Blog Help You? If so, I would greatly appreciate if you like and shared this on Facebook and Twitter.
About the author
Marco Carbajo is a business credit expert, author, speaker, and founder of the Business Credit Insiders Circle. He is a business credit blogger for Dun and Bradstreet Credibility Corp, the SBA.gov Community, About.com and All Business.com. His articles and blog; Business Credit Blogger.com,  have been featured in 'Fox Small Business','American Express Small Business', 'Business Week', 'The Washington Post', 'The New York Times', 'The San Francisco Tribune','Alltop', and 'Entrepreneur Connect'.
Image courtesy of FreeDigitalPhotos.net