Business Credit Analysis
Do you have a business credit building strategy in place?
Would you like to know what types of business funding you qualify for?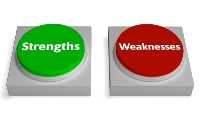 Not being prepared or aware of where you stand with regards to your personal and business creditworthiness is the cause of 99% of declines for credit.
Success in acquiring business credit and funding is more than just being qualified; it's about being ready to apply.

Many business owners are qualified but still get declined because they were not ready.
It all starts with conducting a personal and business credit analysis. By identifying the strengths and weaknesses both you and your business have, the better you can plan and implement the most effective business credit building strategy.
With 3 out of 5 businesses failing within three years and even seasoned businesses having to close their doors, what separates the successes from failures?
Did you know lack of funding is one of the top causes of business failure?
Success in today's business environment depends on you having a system in place to provide the knowledge, tools, and business financing required to support the growth of your business.
Whether you own a startup, existing business, online business, home based business, etc. the best time to start your business credit strategy is now.
Wouldn't you agree it's better to have access to credit and financing before your business needs it?
Here are several fundamental questions I ask during a business credit evaluation:
Are you a startup or existing business?
What's the major industry focus for your business?
Does your business operate as a sole proprietorship, partnership, corporation or LLC?
Do you have a commercial location or is your business home based?
Is there a bank account in your company's name, if so how long has it been opened?
By asking these questions it provides basic information about the stage and operation of your business. The next step is determining what funding programs are available to you based on your personal assets and business assets.
When I talk about personal assets I am not only referring to assets such as real estate, IRA & 401K investments. This also includes your personal FICO® scores and credit partners you may have.
For example, a strong FICO® score is an asset that has useful value to your company's ability to secure financing such as acquiring high limit business credit cards that only report to your business credit reports.
For business assets I'm not just referring to revenues, monthly credit card sales, owned equipment, outstanding invoices with customers, or commercial property. Your business credit scores, business credit reports, and bank ratings are also assets.
For example, with strong business credit ratings you can qualify for higher credit limits since lenders can assess the creditworthiness of the business rather than simply relying on the personal credit rating of the individual business owner.
Did you know a creditworthy business has 10 to 100 time's greater credit capacity than an individual?
Only by taking an honest personal and business credit assessment can you plan the most effective business credit and personal credit building strategy; a strategy that enables you to maximize your funding ability for the short term and the long term.
Ready to start building your business credit? Become a member of my Business Credit Insiders Circle and gain access to a proven step-by-step business credit building system. A system that provides you access to vendor lines of credit, fleet cards, business credit cards with and without a PG, funding sources and lenders that report to all the major business credit bureaus. Submit your name and email below for details and receive a free business credit building audio seminar ($597 value) =>

To Your Success In Business and in Life!
Did This Blog Help You? If so, I would greatly appreciate if you like and shared this on Facebook.
About the author
Marco Carbajo is a business credit expert, author, speaker, and founder of the Business Credit Insiders Circle. He is a business credit blogger for Dun and Bradstreet Credibility Corp, the SBA.gov Community, All Business.com and About.com. His articles and blog; Business Credit Blogger.com, have been featured in 'Fox Small Business','American Express Small Business', 'Business Week', 'The Washington Post', 'The San Francisco Tribune','Alltop', and 'Entrepreneur Connect'.
Image courtesy of FreeDigitalPhotos.net