Picking a Business Name
One of the most important steps you'll take when you start a new business is picking a business name. While the majority of us tend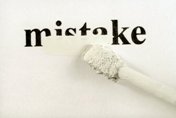 to focus more on choosing a catchy name to give us that edge in marketing there's much more to it that you should pay careful attention to.
When you choose a name for your business, avoid these three mistakes:

Mistake #1: Picking a business name strictly for marketing purposes.
While the sound and spelling of a business name as well as the availability of a dotcom play a key role don't let this be the single factor that drives your decision.
What makes a good business names from a marketing standpoint is usually the opposite of what makes a good name from a legal standpoint.
Even though you may think that choosing a business name that describes your product in the name is much better for marketing purposes it does give you less protection from other people using it against you.
It really depends on what makes the best business sense but this is something you should definitely cover with both your marketing and legal team.
Mistake #2: Selecting a name that can get you in legal trouble
You may come across a great idea for a company name but first you should make sure that you won't be infringing upon a prior user's trademark.
This can be devastating in many ways so imagine if you had to recall and relabel all of your products because of a demand by a prior trademark user.  
Not only that but you can end up paying the other party's attorney fees and monetary damages which can get pretty costly.
For more trademark information, tools, applications, and documentation check out the U.S. Patent and Trademark Office.
Mistake #3: Choosing a name that puts you in a high risk category
This happens to be one of the most common mistakes I see in my business credit practice. Did you know that your business name can automatically put your company in a high risk category?
There are certain industries that the business credit bureaus classify as risky so picking a company name and business sic code in a high risk category can possibly trigger an automatic turndown, higher premium and/or reduced credit limit recommendations for your business. 
For example, real estate is considered a very high risk industry so naming your company John Doe Real Estate Investments would not be the best choice if you plan to apply for financing.
So before you start your new business take the time to review these mistakes so you can pick a business name that works and benefits you from a marketing, legal, and financial standpoint.
Are there any special tools you use to come up with a good business name?
Are you ready to start building business credit for your new startup? Become a member of my Business Credit Insiders Circle and gain access to a proven step-by-step business credit building system. A system that provides you access to vendor lines of credit, fleet cards, business credit cards with and without a PG, funding sources and lenders that report to all the major business credit bureaus. Submit your name and email below for details and receive a free audio seminar ($597 value) =>

About the author
Marco Carbajo is a business credit expert, author, speaker, and founder of the Business Credit Insiders Circle. He is a business credit blogger for AllBusiness.com, a subsidiary of Dun and Bradstreet and author of "Eight Steps to Ultimate Business Credit" and "How to Build Business Credit with No Personal Guarantee." His articles and blogs have also been featured in American Express Small Business, Business Week, The Washington Post, The San Francisco Tribune, Scotsman Guide, Alltop, Entrepreneur Connect, and Active Rain.