Small Business Banks
Does your business account with your bank or credit union have an active Twitter feed?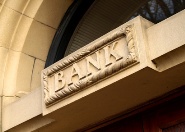 Would you find it extremely helpful if your bank engaged with you on Twitter and answered questions and/or issues you have regarding your account?
Do you think regular updates of events, special deals, new bank products, tools, and other helpful information would be of value to your business?

Well the good news is many financial institutions are jumping on the micro-blogging platform known as Twitter but the bad news is very few are taking advantage of providing true business value to its followers.  
Now I know value can mean many things but in the financial industry customer service ranks at the very top of the list.
For example, Bank of America uses Twitter as a customer service tool by proactively seeking out those who may be (tweeting) about a negative experience they have had with B of A. The Twitter rep representing B of A makes contact and does what he can do to repair the situation and save the customer relationship. Now that's what I call customer service!  
Below are my top 25 small business banks and credit unions on Twitter that provide a clear and consistent message to their followers ranging from customer service, customer interaction, important news, tips, product updates, tools, and valuable resources for business owners.
1. Allegiance Credit Union – @allegiancecu
2. Ally Bank – @AllyBank
3. Arvest Bank – @ArvestBank
4. Bank of America – @BofA_Help
5. Bellco Credit Union – @Bellco_CU
6. Citi Bank – @citi_forward
7. Community Credit Union – @mycucommunity
8. Discover Bank – @Discover  
9. Fidelity Bank – @Fidelity_Bank
10. First Federal – @firstfederal
11. Forum Credit Union – @ForumTalk
12. Heartland Credit Union – @heartlandcu
13. ING Direct – @INGDIRECT  
14. 1st Mariner Bank – @1stMarinerBank
15. Michigan State University Federal Credit Union – @msufcu
16. North Shore Bank – @NorthShoreBank
17. PNC Bank – @PNCNews
18. Silicon Valley Bank – @SVB_Financial
19. Sun Trust Bank – @AskSunTrust
20. TD Bank – @Ask_TDBank
21. Telesis Credit Union – @TelesisCU
22. Technology Credit Union – @TechCU
23. USAA Federal Savings Bank – @USAA_help
24. Webster Bank – @WebsterBank
25. Wells Fargo – @Ask_WellsFargo
Keep in mind this is not a complete list as there are many other financial institutions that have Twitter accounts but these are among the most active and have adopted Twitter as a tool to conduct real, meaningful business.  
What bank or credit union do you think should be added to the list?
Looking to obtain a business line of credit? Become a member of my Business Credit Insiders Circle and gain access to a proven step-by-step business credit building system. A system that provides you access to banking contacts, vendor lines of credit, fleet cards, business credit cards with and without a PG, funding sources and lenders that report to all the major business credit bureaus. Submit your name and email below for details and receive a free audio seminar ($597 value) =>

About the author
Marco Carbajo is a business credit expert, author, speaker, and founder of the Business Credit Insiders Circle. He is a business credit blogger for AllBusiness.com, a subsidiary of Dun and Bradstreet and author of "Eight Steps to Ultimate Business Credit" and "How to Build Business Credit with No Personal Guarantee." His articles and blogs have also been featured in American Express Small Business, Business Week, The Washington Post, The San Francisco Tribune, Scotsman Guide, Alltop, Entrepreneur Connect, and Active Rain.