Commercial Credit Cards
Major credit card issuers are targeting small business owners in an all out effort to expand its commercial credit card business.
According to Synovate, issuers sent out a whopping 46 million commercial credit card offers in just the first quarter of 2010! That's over a 250% increase from the previous year while consumer credit card offers only increased by 29%.
With these types of numbers it's led people like Senator Charles Schumer to believe that credit card issuers are attempting to evade the new restrictions on consumer cards.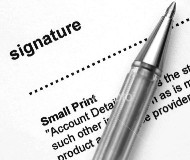 Even though the CARD Act does not address commercial credit cards business owners should take a careful look at the benefits that these cards provide over personal credit cards.
Here are some of the major benefits:
Obtain higher credit limits
Build business credit files
Protect personal credit files
Control employee spending
Take advantage of business perks
These benefits alone should give you reason enough to utilize commercial credit cards for your company. But before you apply here are my seven key steps you should take in order to select the right cards that best fit the needs of your business.
Complete a Credit Assessment – Determine what type of assets you and your company have so you know what types of credit types and limits you can expect to qualify for.
Select Business Credit Applications – After reviewing the six major types of business credit applications decide which ones that your company is willing to apply for. This step alone will prevent you from making costly mistakes and taking unnecessary risks.
Select Commercial Credit Card Types –Each type of card has its own unique purpose so if you are looking for the best small business credit card you should know every type of card that's available. This will enable you to decide what types of cards will meet your company's needs.
Identify Cards Matching Your Criteria – Once you have identified the applications and types of cards your company is looking for now you will need to locate the cards that fit your commercial credit card criteria.  This makes the whole process so much easier and less time intensive because you know exactly what you're looking for.
Review Approval Requirements – As soon as you find cards that match your criteria review the card's credit qualifications. For example, some cards may require a personal guarantee if your company does not meet certain requirements so be prepared ahead of time before you apply.
Set User Guidelines – If you plan to issue cards to employees be sure to set user guidelines as well as credit restrictions with the card issuer so you can protect your company.
Set Credit Guidelines – As a company it's vital that you maximize the payment experience being reported on your business credit reports. For example, you decide that each card will not exceed 30% of the debt to credit limit ratio and all invoices will be paid a minimum of 10 days ahead of the due date.
All of these steps are meant to serve as a helpful guide and a reminder to you that all commercial credit cards are not created equal. Choosing cards that meet the guidelines you set will not only empower you but protect you from risks that you're not willing to take.
Looking for the best commercial credit cards for building business credit? Become a member of my Business Credit Insiders Circle and gain access to a proven step-by-step business credit building system. A system that provides you access to vendor lines of credit, fleet cards,commercial credit cards with and without a PG, funding sources and lenders that report to all the major business credit bureaus. Submit your name and email below for details and receive a free audio seminar ($597 value) =>

About the author
Marco Carbajo is a business credit expert, author, speaker, and founder of the Business Credit Insiders Circle. A step-by-step business credit builder system for busines owners. He is a business credit blogger for AllBusiness.com, a subsidiary of Dun and Bradstreet and author of "Eight Steps to Ultimate Business Credit" and "How to Build Business Credit with No Personal Guarantee." His articles and blogs have also been featured in American Express Small Business, Business Week, The Washington Post, The San Francisco Tribune, Scotsman Guide, Alltop, Entrepreneur Connect, and Active Rain.