Best Small Business Credit Card
As a small business owner it can be a challenge on deciding what the best small business credit card is that best serves the needs of your company. Without a complete understanding of all the types of cards that are available it's easy to make a mistake.
In this post I hope to provide you with better insight into all the types of business credit cards that are available in the marketplace.
Each card has its own unique purpose and can benefit your business in many ways. So it's not uncommon that you'll find several different types of cards that you'll want to obtain for your company.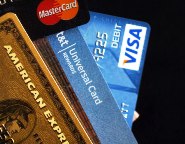 Here are the different types of business credit cards you have to choose from:
This card works like a business checkbook because the limit is the amount of funds you currently have available in your small business checking account. Every time you use it to make a purchase the amount charged is deducted right from your bank account.
You can easily obtain a business debit card from the bank that services your business checking account. Keep in mind that using a business debit card does establish bank history (bank credit) but does not build business credit history.
Prepaid Business Credit Card
These cards provide a convenient alternative to carrying cash and work just like a credit card. You simply add funds to your account and whatever amount you add is available to use for purchases.
You never overdraw on this account and it also allows you to track your company expenses like a business check card. There's no interest rate or APR and the fees are minimal if any.
Some business owners issue these cards and pay their employees via direct deposit which saves the company money in issuing standard paper checks.
These types of credit cards are specifically designed for businesses with no credit or less than perfect credit history.
It requires a security deposit which establishes your card's credit limit. In most cases a minimum deposit of $500 is required and once you begin making purchases you will receive invoices like a regular unsecured business credit card.
In my opinion these cards are ideal because it helps establish business credit, control spending, eliminates personal liability and protects your personal credit files.
Unsecured Business Credit Card
This card is the complete opposite of the secured business credit card because no security deposit is required. Credit limits are based upon many factors depending on the issuer and can range from personal credit and/or business credit ratings, years in business, annual revenues and so on.
Many of these types of credit cards give your business the opportunity to earn perks and rewards but one of the more important things you should pay attention to is liability and credit reporting.
If your business has established a strong enough business credit rating you may qualify for no personal guarantee business credit cards.
Business Charge Card
A business charge card has all the convenience of a credit card without the high price of interest. When using this card you'll have to pay your balance in full each billing cycle.
Because you can't carry a balance, a charge card doesn't have a periodic or annual percentage rate, so there is no rate for a charge card issuer to disclose.
Finally, one of the new kids on the block is the Merchant Card. With no personal credit check, guarantee, or collateral required it definitely is a card worth looking into.
I couldn't possibly cover every aspect of these cards in this post but I hope that you have gained a better insight into deciding what the best small business credit card will be for your company.
Looking to obtain business credit cards for your company? Become a member of my Business Credit Insiders Circle and gain access to a proven step-by-step business credit building system. A system that provides you access to secured and unsecured business credit cards, merchant cards, premium vendors, funding sources and lenders that report to all the major business credit bureaus. Submit your name and email below for details and receive a free audio seminar ($597 value) =>

About the author

Marco Carbajo is a business credit expert, author, speaker, and founder of the Business Credit Insiders Circle. A business credit builder system helping business owners build small business credit. He is a business credit blogger for AllBusiness.com, a subsidiary of Dun and Bradstreet and author of "Eight Steps to Ultimate Business Credit" and "How to Build Business Credit with No Personal Guarantee." His articles and blogs have also been featured in American Express Small Business, Business Week, The Washington Post, The San Francisco Tribune, Scotsman Guide, Alltop, Entrepreneur Connect, and Active Rain.