Best Secured Business Credit Cards
How can you get a business credit card if you have less than perfect credit? If your goal is to strengthen or build business credit, this post is for you.
You've probably heard a secured credit card can be a good option to build or rebuild your personal credit. But what about businesses?
As a business owner, you need a different approach: a secured business credit card that builds your business credit.
What Is a Secured Business Credit Card?
A secured business credit card requires a refundable deposit before a card account can be opened. With the majority of secured business credit cards, the amount you deposit becomes the credit limit of the card.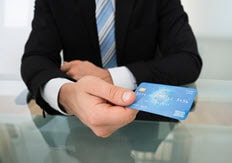 You will also need to link your business bank account to the card account in order to load the security deposit to your card and make future credit card payments.
Keep in mind with a secured business credit card, you can make purchases just like a regular credit card. With this card, your payment history is reported to business credit reporting agencies such as Dun & Bradstreet, Experian Commercial and Equifax Small Business to name a few.
The main benefit to secured business credit cards is the ease of approval. You don't need good credit to qualify. Secured business credit cards are designed for business owners who have less than perfect credit or little to no credit history.
Let's face it, credit cards are an essential tool needed for day-to-day business activities. If you're paying for supplies, booking a hotel, purchasing airline tickets for business travel, or simply taking a client out to lunch; a business credit card is a must.
Putting a small deposit down for a business credit card is a smart decision. It helps you build business credit, keeps personal and business expenses separate, and may potentially lead you to acquiring an unsecured business credit card.