Fast Bridge Loan
Can credit card debt prevent you from moving forward with business credit card funding?
If your overall and/or individual credit card utilization is above 50%, in some cases a paydown may be required prior to moving forward with funding.
If you don't have the cash for paydowns or don't want to use your cash what do you do? The good news is there's an alternative.  In today's post we are going to go over how the bridge loan strategy works for doing paydowns.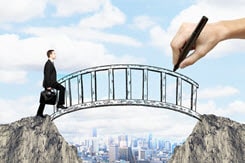 What is a bridge loan?
A bridge loan is an amount of money lent by a bank or lender for a short-term until an individual or business secures permanent financing.  It's also known as interim financing, gap financing, or swing loans.
This type of loan bridges the gap during times when financing is needed but not yet available. This is widely used in real estate transactions. For example, a buyer may use a bridge loan so they can purchase another home before they sell their existing residence.
Both corporations and individuals use bridge loans (gap financing) for various purposes in real estate. Lenders can customize these loans for many different situations such as credit card paydowns. So, in this post we are going to go over how this loan product works in business credit card funding.

The particular bridge loan lender we will be talking about lends $5k – $20k for the purpose of paying down credit card debt. Let's go over an actual client that used this bridge loan strategy.
The client first went through the pre-qualification review by completing the online form and uploading their credit report.
Here were the results of the pre-qualification review:
Projection: $60-80k in Business Credit Cards +$20k in loan funding
Total projection: $80-$100k
The funding projection could only be achieved if credit issues were resolved first. The credit issues in this case was there was too high of a credit utilization on two cards. The following paydowns had to be completed.
Pay Chase to $9k balance (currently at 98% utilization)
Pay Discover to $9k balance (currently at 65% utilization)
Total paydown required: $14k
So, what are the paydown options? There are basically two options.
Option 1: Paydown credit cards with own cash ($14k)
This is a straightforward solution to get your card utilization to where it needs to be. In this particular case, the client did not want to use all his cash.
Here's the Problem:
What if you don't have the cash?
What if you don't have enough cash for the paydowns?
What if you want to conserve your cash?
You may be thinking why not transfer the balance to another credit card.  Unfortunately, you can't balance transfer the debt to other credit cards you have because overall credit card utilization will stay the same.
Option 2: Use Other People's Money
With a bridge loan you're able to leverage other people's money rather than using your own cash for paydowns. Here's how the bridle loan strategy works.
Step 1: Pre-Qualification Projection sent to Bridge Loan Lender (paydown instructions included)
Step 2: Bridge Loan Lender pays credit card debt down (48 hrs.)
Step 3: Business Credit Card Funding Process Begins
Step 4: Funding Process Complete (14-20 days)
Bridge Loan Benefits
Make the paydowns required so you can get funding needed
Make the paydowns required even if you don't have the cash
Make the paydowns required while conserving your cash
Use other people's money (OPM) rather than your own
Get the return on investment (ROI) you project
Enables you leverage the revolving credit obtained from funding
As you can see the process is straightforward and happens quickly. Now, keep in mind once the funding agreement is submitted, we monitor your credit reports for the paydowns to update.
The paydowns need to update on your credit reports prior to us submitting the applications to the banks we select.
For Business Credit Card Funding – What Do You Need?
Prior to going through the business credit card funding process here are the basic requirements needed. Remember, your company can either be a startup or existing business. There is no age or revenue requirements which is why this is such a popular program.
Separate legal entity (Corporation, LLC, etc.)
Company must be in good standing – A "Certificate of Good Standing" indicates that your business has filed all reports and paid all the necessary taxes and fees with your state's secretary of state office.
Employer Identification Number (EIN)
Business Contact Information
Business Bank Account
Business Credit Card Funding Overview
Receive 4-5 Business Credit Cards issued to the Business (only 14-20 days)
$25,000 to $150,000 in combined credit limits
0% Intro APR for 6-15 months (depending on bank)
Annual APR rates (9.9 -19.9%)
Minimum monthly payments from 1-1.5%
Reports only to business credit reporting agencies
Establishes business credit file (Experian Commercial, Equifax Small Business)
Establishes 4-5 business accounts reporting on your business credit report
Established 4-5 banking relationships
Establishes a business credit score for your business
*Add'l service – cash liquidation service only available to our clients – Ability to pull 100% cash out (no cash advance rates)
If you want to acquire business credit cards for your company the first step is to start the pre-qualification process. There is no hard inquiry for us to conduct a review since you are submitting a copy of your credit report to us. Ordering your own credit report does not trigger a hard inquiry.
The Business Funding Pre-Qualification Process
Step 1: Order Your Credit Report => http://creditreportengine.com or http://triadcreditreport.com
Step 2: Download Your Report in PDF format (use print to PDF)
Step 3: Complete the Pre-Qualification Form and Upload Your Credit Report => http://businessfundingreview.com
*Pre-Qualification review takes 24/48 hours. You will be contacted via phone with business credit limit projections and next steps. Funding process takes 14-20 days.
Looking to rebuild your business credit? Become a member of my Business Credit Insiders Circle and gain access to a proven step-by-step business credit building system. A system that provides you access to vendor lines of credit, fleet cards, business credit cards with and without a PG, funding sources and lenders that report to all the major business credit bureaus. Submit your name and email below for details and receive a free business credit building audio seminar ($497 value) =>

To Your Success in Business and in Life!
Did This Blog Help You? If so, I would greatly appreciate if you like and shared this on Facebook and Twitter.
About the author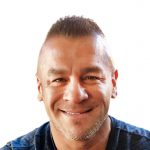 Marco Carbajo is a business credit expert, author, speaker, and founder of the Business Credit Insiders Circle. He is a business credit blogger for Dun and Bradstreet Credibility Corp, the SBA.gov Community, Business.com, About.com and All Business.com. His articles and blog; Business Credit Blogger.com, have been featured in 'Fox Small Business', 'American Express Small Business', 'Business Week', 'The Washington Post', 'The New York Times', 'The San Francisco Tribune', 'Alltop', and 'Entrepreneur Connect'.