Fast Bridge Loan
Can credit card debt prevent you from moving forward with business credit card funding?
If your overall and/or individual credit card utilization is above 50%, in some cases a paydown may be required prior to moving forward with funding.
If you don't have the cash for paydowns or don't want to use your cash what do you do? The good news is there's an alternative.  In today's post we are going to go over how the bridge loan strategy works for doing paydowns.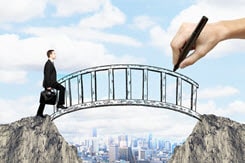 What is a bridge loan?
A bridge loan is an amount of money lent by a bank or lender for a short-term until an individual or business secures permanent financing.  It's also known as interim financing, gap financing, or swing loans.
This type of loan bridges the gap during times when financing is needed but not yet available. This is widely used in real estate transactions. For example, a buyer may use a bridge loan so they can purchase another home before they sell their existing residence.
Both corporations and individuals use bridge loans (gap financing) for various purposes in real estate. Lenders can customize these loans for many different situations such as credit card paydowns. So, in this post we are going to go over how this loan product works in business credit card funding.
Click to continue …