Using Personal Credit Cards for Business
What do you use to pay for your business purchases?
Do you use a personal credit card?
If so, you're not alone.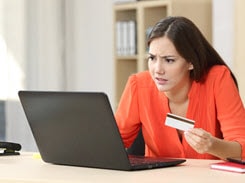 In fact, over 65% of all small businesses use credit cards on a regular basis but less than 50% of those cards are actually in the company's name.
In today's post you're about to learn why using personal credit cards for business purchases is dangerous and can cost you more than you think.
Here are five key reasons to stop using personal credit cards for business purchases:
1) Impacts Your Credit Utilization – Using a personal credit card for business purchases directly impacts your individual and overall credit utilization ratios. These ratios are one of the factors that make up your FICO® scores.
In fact, the second most important factor that impacts your credit scores is your debt.  The credit scoring system heavily weighs your debt usage. This is where a scoring model such as FICO® takes the size of the credit limit on each card and compares it to the balance owing being reported by the card issuer. (credit limit vs amount owing)

So, if your business purchases and debt are on your personal credit card then it directly impacts your personal credit scores.
Rather than use a personal credit card, get business credit cards that report only to the business credit reporting agencies through our business credit lines program. This protects your personal credit since none of your business purchases or debt will show up on your personal credit reports.
2) Commingles Personal and Business Expenses – Mixing personal and business spending on a personal credit card is a recipe for a bookkeeping disaster. Doing so is known as commingling funds and it should be 100% avoided. In fact, commingling funds jeopardizes the integrity of your business entity and exposes you to risk.
Did you know piercing of the corporate veil is the most litigated issue in corporate law today? By using personal credit cards for personal and business purposes you open yourself up to the alter ego theory.
Instead, get a business credit card for the business that reports only to the business credit reporting agencies. Doing so establishes a distinct separation between your personal and business purchases.
3) Impacts Your Personal Credit – Using personal credit cards for business expenses puts your own credit record on the line. It impacts your credit utilization ratios, credit scores, payment history and credit ability.
Any revolving debt that the business carries is debt that you personally carry too. Any unpaid credit card bill due to a business purchase would hurt your personal credit ratings as well. To stop this from occurring you should only use business credit cards that report solely to the business credit agencies, not personal credit.
4) Creates Problems at Tax Time – Having well organized records of your business purchases and expenses is essential when preparing to file your business tax returns. If you intermingle business and personal expenses using a personal credit card you have to manually go over the account at the end of the year and determine which expenses are for the business.
This can cause potential confusion and challenges during tax time. A better alternative is to use a business credit card which can simplify your financial record keeping. Each of the statements itemize your business purchases with no need to separate personal expenses since every transaction will be associated with your business.
5) Does Not Build Business Credit – Personal credit card issuers share data with consumer credit reporting agencies such as Equifax, Transunion & Experian. Since personal credit cards are issued to individuals not businesses, your company does not build its business credit file.
Only business credit cards issued in the company's name that report to business credit agencies will build your company's credit files. Business credit reporting agencies such as Dun & Bradstreet, Experian Business and Equifax Small Business collect data on millions of businesses and compile the data into what is known as a business credit report.
Banks, lenders, vendors, suppliers, retailers and leasing companies use business credit reports to assess the creditworthiness of a company. By using a business credit card that reports to one of these business credit agencies you build up the credit identity and payment history of your business.
As a result, when you apply for financing in the future; lenders and banks will now be able to assess your company's credit file during a review. Without a company credit file, your personal credit will always be used to assess creditworthiness.
As you can see, there are several key reasons to stop using personal credit cards for business purchases. To truly separate your business credit and from your personal credit requires the use of a business credit reporting card. For details on how to get business credit cards that report only to the business credit agencies check out our business credit lines program.
Ready to build business credit separate from your personal credit? Become a member of my Business Credit Insiders Circle and gain access to a proven step-by-step business credit building system. A system that provides you access to vendor lines of credit, fleet cards, business credit cards with and without a PG, funding sources and lenders that report to all the major business credit bureaus. Submit your name and email below for details and receive a free business credit building audio seminar ($497 value) =>

To Your Success in Business and in Life!
Did This Blog Help You? If so, I would greatly appreciate if you like and shared this on Facebook and Twitter.
About the author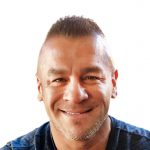 Marco Carbajo is a business credit expert, author, speaker, and founder of the Business Credit Insiders Circle. He is a business credit blogger for Dun and Bradstreet Credibility Corp, the SBA.gov Community, Business.com, About.com and All Business.com. His articles and blog; Business Credit Blogger.com, have been featured in 'Fox Small Business','American Express Small Business', 'Business Week', 'The Washington Post', 'The New York Times', 'The San Francisco Tribune','Alltop', and 'Entrepreneur Connect'.