Unsecured Small Business Credit Card
We all know a credit card is a powerful tool and the advantages it provides go far beyond convenience alone. But with the power of credit comes great responsibility and whether its effects are helpful or harmful depends on the individual user.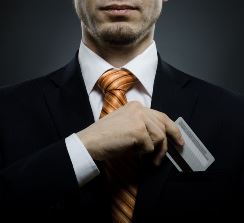 I'm sure if you ask around you'll find that people use credit cards for all kinds of reasons. Whether it's for building credit, a matter of convenience, automatic billing or to track spending; credit cards are a useful tool. For business owners, however, the stakes are much higher since business credit cards can help a small business stay afloat.
"There are plenty of benefits to using a business credit card versus a personal credit card for your small business," says Alison Cahill-Rouse, a spokeswoman for Capital One. "You'll also have access to business-specific benefits, such as employee cards and spending controls, and specialty services tailored to meet small businesses' needs."
So when considering a small business credit card for your business, make sure you understand the benefits, its applicable use and potential risks that come along with an unsecured revolving line of credit.

Here are 8 major uses for an unsecured business credit card:
1) Keep Personal and Business Expenses Separate – If your business is a corporation or LLC, you must keep the finances of your company completely separate from you as an individual because it is considered a separate legal entity. A business credit card by its very nature will keep your business expenses separate. This makes it easy during tax time since your monthly statements has all your business purchases itemized and recorded.
2) Establish Business Credit History – The unsecured business credit cards issued via our UBF Program report only to the business credit reporting agencies; this enables your company to establish its own credit history. Look at it as a stepping stone for banks to compete for your business. Unfortunately, not all business credit cards report to business credit reporting agencies such as Experian Business so it's essential to select the right cards.
3) Protect Personal Credit – Major business credit card issuers, such as American Express and Capital One, report business payment activity to consumer credit agencies such as Equifax. As a result the company's revolving debt on those cards has a direct impact on the business owner's (guarantor) personal credit utilization ratio which impacts his or her personal FICO® scores. But the good news is you can obtain unsecured business credit lines that report solely to the business credit agencies which ultimately protect your personal credit.
4) Spending Power for Big Purchases – Business credit cards offer much higher credit limits than personal credit cards. For example, through our UBF program we issue 5-7 high limit business credit cards per client with combined credit limits of up to $150,000.
5) Manage Cash Flow – The credit available on a business credit card is unsecured, and anytime a company needs a cash injection the credit available on a business credit card is an excellent source of cash to manage cash flow.
6) Balance Transfer Strategy – If a business owner uses personal credit cards for business purchases, he can transfer the balances to business credit cards. The process is easy, but make sure you understand the benefits, terms and conditions.
7) Real Estate Investing – Real estate investors are always on the lookout for ways to get access to cash to fund their deals. Unsecured business credit cards offer cardholders the ability to obtain cash advances from 25% to 50% of the card's limits. Although percentages and credit limits vary per card issuer you can raise a substantial amount of cash with several cards carrying high credit limits via cash back from business credit cards.
8) Maximizing Rewards – Business credit cards provide a wide variety of perks, rewards, bonuses, special offers and benefits for business owners. For example, American Express has a program offering automatic discounts at certain vendors: like 5% off Hyatt and up to 10% off at Office Max.
As you can see there is a lot more to a business credit card than meets the eye. It is a powerful financial tool of leverage that should be used for your business. Did you know that over 65% of all small businesses use credit cards on a regular basis but less than 50% of those cards are actually in the business name? Don't put your personal credit at risk any longer. Obtain a business credit card so you can start establishing credit in your company's name.
Looking to build your business credit? Become a member of my Business Credit Insiders Circle and gain access to a proven step-by-step business credit building system. A system that provides you access to vendor lines of credit, fleet cards, business credit cards with and without a PG, funding sources and lenders that report to all the major business credit bureaus. Submit your name and email below for details and receive a free business credit building audio seminar ($597 value) =>

To Your Success In Business and in Life!
Did This Blog Help You? If so, I would greatly appreciate if you like and shared this on Facebook and Twitter.
About the author
Marco Carbajo is a business credit expert, author, speaker, and founder of the Business Credit Insiders Circle. He is a business credit blogger for Dun and Bradstreet Credibility Corp, the SBA.gov Community, Business.com, About.com and All Business.com. His articles and blog; Business Credit Blogger.com,  have been featured in 'Fox Small Business','American Express Small Business', 'Business Week', 'The Washington Post', 'The New York Times', 'The San Francisco Tribune','Alltop', and 'Entrepreneur Connect'.