Credit Reporting Changes
Are you among the 12 million consumers in the U.S. that will see an increase in FICO® scores because of the new credit reporting changes?
For most consumers that will see an increase they can expect as high as a 20-point jump while around 700,000 consumers will see a 40-point jump.
So, what credit reporting changes are taking affect?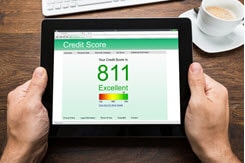 As of July 1, 2017, all three-major consumer credit reporting agencies; Equifax, Transunion and Experian will be removing tax liens and civil judgment data per the Consumer Data Industry Association.
Now the standard for removing these specific items is if the credit reporting agency fails to completely list all the important identifying data that accompany a tax lien or civil judgment. If identifying data like a person's name, address, Social Security number or date of birth is missing then the tax lien or civil judgment must be removed.
Many liens and judgements do not include all of this identifying data, according to the Journal. The good news is that this new change will apply to new tax lien and civil judgment data reported as well as old ones showing up on credit reports.
Click to continue …