Credit Reporting Changes
Are you among the 12 million consumers in the U.S. that will see an increase in FICO® scores because of the new credit reporting changes?
For most consumers that will see an increase they can expect as high as a 20-point jump while around 700,000 consumers will see a 40-point jump.
So, what credit reporting changes are taking affect?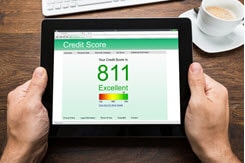 As of July 1, 2017, all three-major consumer credit reporting agencies; Equifax, Transunion and Experian will be removing tax liens and civil judgment data per the Consumer Data Industry Association.
Now the standard for removing these specific items is if the credit reporting agency fails to completely list all the important identifying data that accompany a tax lien or civil judgment. If identifying data like a person's name, address, Social Security number or date of birth is missing then the tax lien or civil judgment must be removed.
Many liens and judgements do not include all of this identifying data, according to the Journal. The good news is that this new change will apply to new tax lien and civil judgment data reported as well as old ones showing up on credit reports.

What other credit reporting changes are or have taken affect?
By 2018, the credit reporting agencies will also have to remove medical debt collections that have been paid by a patient's insurance company from credit reports. This change was due to the 2015 consumer protection settlement that the credit reporting agencies reached with New York's attorney general over several practices and 31 states followed suit.
"This is a big deal," said  Credit Expert, John Ulzheimer, formerly of FICO® and Equifax.". "Normally, it takes an act of Congress for the credit reporting agencies to change their practices."
From that settlement credit reporting agencies were forced to remove several types of data sets that report to personal credit. For example, non-loan related items that were sent to collection agencies such as gym memberships in default, library fines and unpaid traffic tickets are now removed from consumer credit reports.
In addition to these credit reporting changes, the credit reporting agencies are also in the process of overhauling the dispute process.  Among other things, consumers will be able to obtain a second free credit report if they discover an error after obtaining their free annual credit report from AnnualCreditReport.com.
According to the settlement made in 2015, Equifax, Transunion and Experian are required to complete these additional changes 3 years and 90 days from the date of the settlement. (2018)
Each credit reporting agency must notify the other credit agency if it finds a mixed file.
The credit reporting agencies and data furnishers must use a more detailed system for sharing information.
Data furnishers cannot add information about fines or tickets to credit reports.
Credit reporting agencies must wait 180 days from the time medical debt is reported to add the account to a credit report, allowing consumers time to address the bill with their insurance provider.
Debt collectors must provide the original creditor's name and details of the debt before an account can appear on a credit report.
Consumers who succeeded in disputing an item on their credit reports can get an additional free credit reports from the credit agencies.
The credit reporting agencies must also increase their efforts to educate consumers about their access to a free credit report, while also minimizing marketing of paid products to consumers trying to access free information.
As you can see, big changes to credit reporting are on the way that will increase credit scores for many consumers. These changes represent a big win for consumers as the big three credit agencies work towards correcting errors and improving the accuracy and fairness in millions of consumer credit reports.
Looking to build your business credit? Become a member of my Business Credit Insiders Circle and gain access to a proven step-by-step business credit building system. A system that provides you access to vendor lines of credit, fleet cards, business credit cards with and without a PG, funding sources and lenders that report to all the major business credit bureaus. Submit your name and email below for details and receive a free business credit building audio seminar ($497 value) =>

To Your Success in Business and in Life!
Did This Blog Help You? If so, I would greatly appreciate if you like and shared this on Facebook and Twitter.
About the author
Marco Carbajo is a business credit expert, author, speaker, and founder of the Business Credit Insiders Circle. He is a business credit blogger for Dun and Bradstreet Credibility Corp, the SBA.gov Community, Business.com, About.com and All Business.com. His articles and blog; Business Credit Blogger.com, have been featured in 'Fox Small Business','American Express Small Business', 'Business Week', 'The Washington Post', 'The New York Times', 'The San Francisco Tribune','Alltop', and 'Entrepreneur Connect'.