Small Business Compliance
Do you know the legal aspects of starting and running a small business?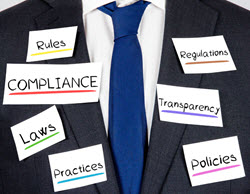 Compliance as defined, is simple, it's to make sure your business follows all the rules and regulations. In today's post, we'll cover the three areas of compliance and how it impacts your ability to acquire credit for your business.
What does it mean to be in compliance?
Small business compliance can be broken down into three main areas; corporate compliance, regulatory compliance and lender compliance. Each of these areas focus on making sure that your business follows all the rules to reduce risk, avoid penalties and fines, avoid litigation, provide safety and security, protect employees, protect the corporate veil, and meet funding ability.
Click to continue …