Small Business Compliance
Do you know the legal aspects of starting and running a small business?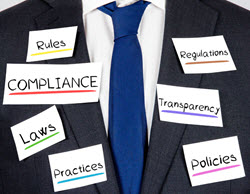 Compliance as defined, is simple, it's to make sure your business follows all the rules and regulations. In today's post, we'll cover the three areas of compliance and how it impacts your ability to acquire credit for your business.
What does it mean to be in compliance?
Small business compliance can be broken down into three main areas; corporate compliance, regulatory compliance and lender compliance. Each of these areas focus on making sure that your business follows all the rules to reduce risk, avoid penalties and fines, avoid litigation, provide safety and security, protect employees, protect the corporate veil, and meet funding ability.

Let's break down each of these small business compliance areas.
Corporate Compliance
Corporate compliance are requirements and actions that must be taken within the company. If your structured as a corporation then it would be action taken by the directors and shareholders. Actions such as holding annual meetings, keeping up to date with corporate minutes and resolutions, filing annual reports, filing DBAs for any name variations, etc. are all ongoing actions required for a corporation to stay in compliance.
If your company is structured as an LLC, then it would be actions taken by members and managers. Luckily an LLC does not have many of the reporting and documentation compared to a corporation. However, to form an LLC you must file articles of formation with the state, pay any filing fees as well as designate a registered agent for the LLC. Also, actions such as filing annual reports and paying the annual report filing fees are part of compliance to keep your company in active status with the state.
Remember, to legally operate as a corporation or limited liability company, a business must comply with all federal, state, and local rules required to keep the business in good standing.
Regulatory Compliance
Regulatory compliance is a company's conformity to the laws, state licenses & permits, regulations and guidelines relevant to its operation and industry. This can take on many different definitions depending on the state you operate in. Getting into compliance with any business laws or regulations at every level (federal, state, county or local) is crucial for a business.
For example, the Occupational Safety & Health Administration is responsible for making sure companies provide safety for workers across all industries. OSHA has created a list of compliance assistance resources on OSHA's website page that you may find helpful.
Lender Compliance
Lender compliance is a series of approval guidelines which lenders, banks, suppliers and vendors use as part of their business credit decision making process. A company's organization and presence will be reviewed by any credit grantor considering extending credit to the business.
Meeting these requirements does not mean your company will get approved but it will most definitely get you declined if your business does not comply. For example, a Federal "Employer Identification Number" (EIN) is a nine-digit number assigned to your business by the IRS. Lenders will check to make sure your EIN is established and matches your business legal name exactly. A mismatch or non-listing may trigger a denial of credit.
Missing one of several small business compliance items can get you declined. Each of these compliance areas impact all aspects of your business funding ability. For example, if you fail to pay and update your annual report filing with the state (corporate compliance) then your entity will not be in good standing. As a result, a lender will decline your company for a loan or business line of credit when checking the Secretary of State's system on your company status.
So, before you rush out to get business credit for your company, it's essential to ensure your company is in compliance. Corporate, regulatory and lender compliance are the most important pieces of the business credit building process.
Meeting small business compliance not only protects your business it enhances your reputation with your customers, lenders, suppliers and your employees. To ensure you meet the lender compliance guidelines be sure to check out our business credit building system where we cover all those specific items in depth step-by-step.
Ready to get lender compliant and start building business credit? Become a member of my Business Credit Insiders Circle and gain access to a proven step-by-step business credit building system. A system that provides you access to vendor lines of credit, fleet cards, business credit cards with and without a PG, funding sources and lenders that report to all the major business credit bureaus. Submit your name and email below for details and receive a free business credit building audio seminar ($497 value) =>
To Your Success in Business and in Life!
Did This Blog Help You? If so, I would greatly appreciate if you like and shared this on Facebook and Twitter.
About the author
Marco Carbajo is a business credit expert, author, speaker, and founder of the Business Credit Insiders Circle. He is a business credit blogger for Dun and Bradstreet Credibility Corp, the SBA.gov Community, Business.com, About.com and All Business.com. His articles and blog; Business Credit Blogger.com, have been featured in 'Fox Small Business','American Express Small Business', 'Business Week', 'The Washington Post', 'The New York Times', 'The San Francisco Tribune','Alltop', and 'Entrepreneur Connect'.